Rapierstar says it is celebrating 25 years as the UK's market leading designer, importer and distributor of specialist fastener and fixings at this year's FIT Show, revealing latest product developments for PVC-U, aluminium and timber manufacturers, 'underpinned by its refreshed brand identity'.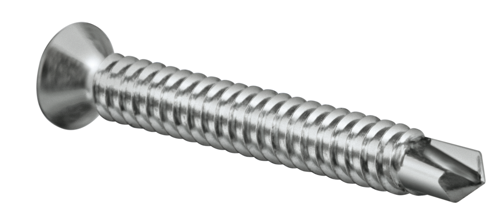 Demonstrating its longevity in high-performing products and service, Rapierstar says it will highlight some of its new fixings and explain why they 'give you the edge' in 'quality, performance, expertise and delivery' on stand M1.
StarPIN and StarNail have been designed to offer a stainless steel product with a versatile low-profile polymer head that has maximum pull-out resistance. Readily available for the trade, the pins and nails are suitable for all plastic systems, with 10 brand new colour options including white, black, browns and greys.
Rapierstar's latest product introduction is specified for the rapidly-growing aluminium sector. StarAlu is designed to improve fabricator experience across all aluminium door and window products. Tested to extremes at Rapierstar's unique research and development centre, StarAlu screws deliver guaranteed performance. The screws are manufactured from Austenitic stainless steel, providing an impressive lifecycle, low maintenance, strength and durability as well as exceeding European standards.
Speaking about this year's show attendance, Rapierstar's group managing director, David Furness, said: "This year's FIT Show provides an ideal platform to showcase some of our recent product developments that will benefit our customers across all their installation projects."
He added: "FIT is also an exciting opportunity to celebrate the success to date and ongoing ambition of Rapierstar as the industry's most reliable fixings and screws supplier. With our unrivalled stock holding of the highest quality products, supported by expert technical service, our presence at FIT will demonstrate why we are the go-to partner for any project big or small."
StarPin and StarAlu are parts of a range of award-winning family products: StarPVCU, StarTurn, StarFix, StarPin & StarNail and StarDeck, which make up Rapierstar's continuous stock of one billion screws and fixings ready to serve the majority of UK windows and doors manufacturers throughout the UK, Ireland and Europe.