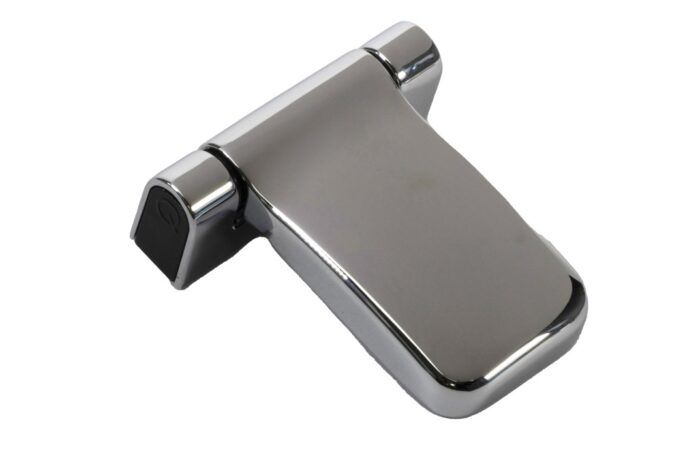 The Sigma door hinge family was bolstered by two new additions this spring, thanks to leaders of VBH, the hardware manufacturer behind the GreenteQ range. Sigma is the umbrella name for the entire GreenteQ residential door hinge range that, until now, included three models to suit PVC-U and composite doors.
First, the company launched a new butt hinge for aluminium entrance doors. The hinge can carry sashes weighing up to 90kg and is available in white, black, anthracite grey and F1 silver anodised finishes. The VBH team advises that no jigs are required to fit the hinge, which is known as the Sigma Aluminium butt hinge.
Following closely behind is the Sigma Velocity hinge for rebated doors. The 2-knuckle construction T-Hinge design provides an alternative to the popular Sigma Flag hinge, which the VBH team advises is still immensely popular with fabricators and installers.
Building on the jigless theme of the aluminium butt hinge, once Velocity's frame part has been positioned and fixed using a jig and the supplied screws, the sash part is 'self-locates' prior to fixing. This, coupled with the fact that the hinges are supplied pre-assembled means that fitting is reportedly very quick.
"Like the original Sigma Flag, Velocity carries 100kg doors and provides full 3D adjustment," said Rob Norman, business development director at VBH. "It's been developed in response to calls for a compact unit that speeds up production times on the bench."
Sigma Velocity has been successfully tested to PAS24:2022 as part of a PVC-U door assembly, and is approved for use on installations that are covered by the Q-secure consumer security guarantee. Velocity is available in eight colours of VBH's GreenteQ Suite of matching residential door, patio door and window furniture, which comes with a minimum 10-year mechanical and surface guarantee on all finishes.
Rob added: "The GreenteQ ethos is all about giving our customers great quality, useful features and choice. The Sigma family is no exception to that."
To find out more about GreenteQ Sigma Velocity or aluminium butt hinges, or any other hardware in the VBH range, call 01634 263263, email sales@vbhgb.com or Tweet @vbhgb.