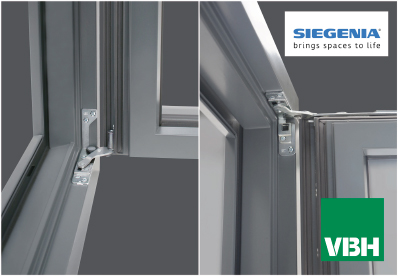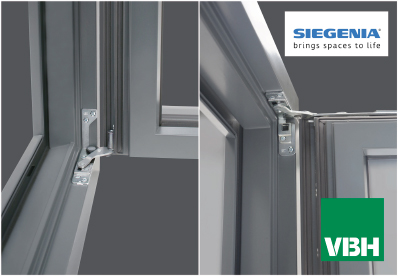 Hardware specialist VBH now stocks Titan AF, the latest tilt and turn system from Siegenia.
Titan AF is available in both surface fit and 'Axxent 24+' concealed hinge options, and has versions to suit PVC-U, timber and aluminium windows, with sash weights of up to 150Kg.
Titan AF has been designed with the manufacturer, installer and end-user in mind. The hardware clamps into the Eurogroove prior to screw fixing and VBH advises that the 'click-on' coupling feature makes the hardware extremely easy to fit. The security level can be easily upgraded from 'basic' to RC-1, RC-2 or PAS24 level by changing just a few components.
The system features KoPiBo roller cams that act as a standard roller cam or a mushroom cam depending on the striker plate used. It is height adjustable to automatically compensate for clearance tolerances and expansion and contraction in the window frame caused by dramatic temperature fluctuations. As KoPiBo cams have a roller action the closing action of Titan AF windows is very smooth regardless of how many locking points there are.
Each AF window includes a sash lift roller to ensure the sash locates into the frame smoothly and correctly. This, coupled with the KoPiBo cams, reduces wear and tear and ensures that the user enjoys easy operation even after many years.
The concealed hinge solution features Axxent 24+ hinge components. Axxent 24+'s low stack height helps overcome air gap clearance issues but does not adversely affect the hinge's strength. Sashes weighing up to 150Kg can be accommodated without the need for extra support. This ability to carry heavier sashes with minimal hardware is becoming more desirable with the emergence of triple glazing and as designers favour larger, therefore heavier, windows to bring added light into buildings.
Fitting of Axxent 24+ is further speeded up by the fact that no jigs are required. The hinges simply locate into the frame corners.
VBH marketing manager, Gary Gleeson, said: "Titan AF has been tried and tested in continental Europe before Siegenia developed the tilt before turn, or TBT, version used here in the UK. The Axxent 24+ hinges are a brand new development. Their load bearing capabilities and compact size, along with the fact that no jigs are required to fit them are sure to gain a lot of admirers amongst fabricators, installers and specifiers.
"We've built our business on supplying our customers with the best solutions for their needs and this is clearly demonstrated by the top quality TBT options that we can offer."
More information on Siegenia Titan AF and the rest of the VBH range can be obtained by calling 01634 263300.