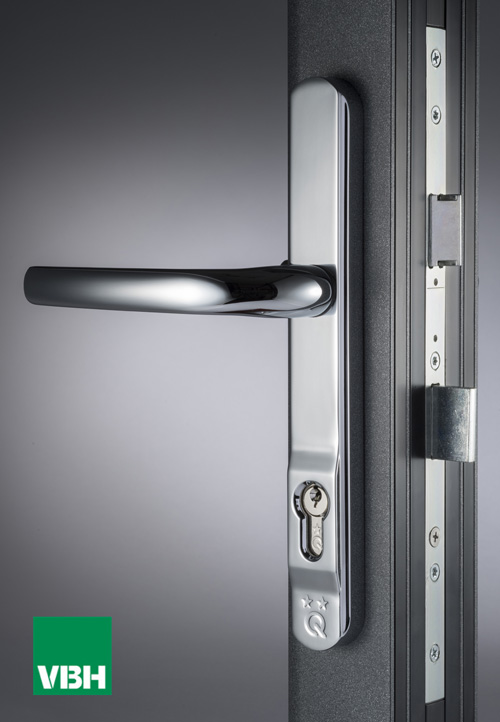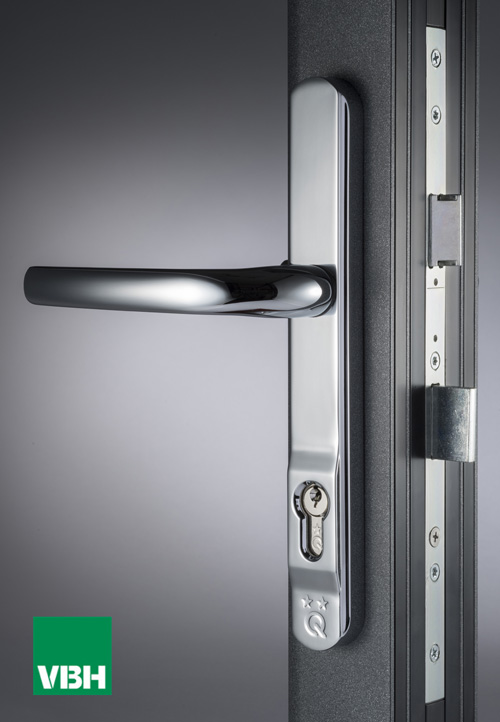 Hardware specialist VBH has unveiled the Alpha 2-Star security door handle set as the latest addition to the greenteq range. When used in conjunction with a 1 star rated profile cylinder, the handle enables manufacturers and installers to provide a 3 star rated solution to BSI Kitemark TS007.
According to VBH, the greenteq Alpha 2-Star handle has been successfully tested to TS007 in conjunction with the greenteq Q-Star 1 star profile cylinder.
VBH says that the Alpha 2-Star is part of the greenteQ Suite as it features the decorative greenteQ groove around the backplate and incorporates the Alpha lever.
The backplate shrouds a solid stainless steel core that, in conjunction with steel fixings, provides 'excellent' protection against attack and removal, whilst the profile cylinder hole features a flange that prevents the cylinder from being removed from outside with the handle set in place.
VBH says that standard 215mm fixing centres mean that upgrading handles on existing installations is simple, with only minimal additional routing required around the cylinder.
VBH marketing manager, Gary Gleeson, said: "We're delighted to add Alpha 2-Star to our product portfolio as it is the perfect partner for our Q-Star TS007 profile cylinder that has proved so popular since we launched it last year. Customers have been eagerly awaiting its arrival so they can fit an all-greenteQ TS007 solution.'
The handle is available in anthracite grey as well as the five core greenteQ Suite finishes. VBH advise that this makes it ideal for many of the grey doors that are becoming more popular, including PAS24 rated Clearspan bi-fold doors.