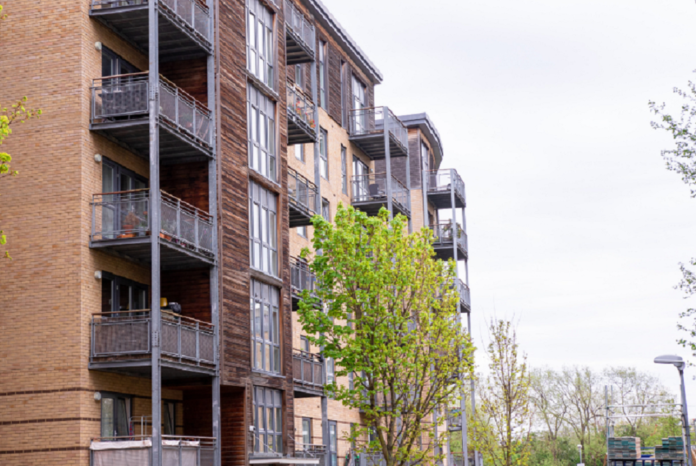 EnviroBuild's Class-A-fire-resistant decking is to feature on the refurbished balconies of Latham's Yard estate in Hackney, London. Representatives of the builders merchant signed a contract with property developer Taylor Wimpey for the use of its 150 Aqua Channel aluminium decking.
As part of a multi-phase project, 10 high-rise apartment buildings are to be fitted with EnviroBuild's aluminium deck boards. The job is set to feature around 4,000m² of material from EnviroBuild – a business that sets out to be as environmentally sustainable as possible. The refurbishment project fully adheres to the legislation that was updated in 2018 after the Grenfell Tower fire: The Building (Amendment) Regulations 2018 (S.I. 2018/ 1230).
The product is made entirely from aluminium, making it fully recyclable. The business also offers an option to purchase aluminium manufactured using entirely renewable energy, lowering the carbon intensity of the product by 70%.
The decking has a clipless system for ease of installation. It also features a passive water drainage system and has low-slip qualities, according to representatives of the business. With its a Class-A fire resistance rating, EnviroBuild's latest aluminium decking material passes all of the stringent safety tests with no issue, the company's representative has claimed.
Dr Aidan Bell, spokesperson for EnviroBuild, said: "We're delighted that Taylor Wimpey has opted for the look and feel of our Aqua Channel board. We are pleased to be working with them on such an important project and hope to collaborate more with them in the future."
Architects for Latham's Yard, PRP Architects, chose Anthracite 7016 for the project. The site's managers have hired KDD Construction as subcontractors.
With up to 30 years of warranty, EnviroBuild's 150 Aqua Channel aluminium decking is available for both personal and commercial use. There are two variations: one for for steel beam and another for flat roof installations. To receive a free, same-day quotation and expert advice on installation, visit envirobuild.com.