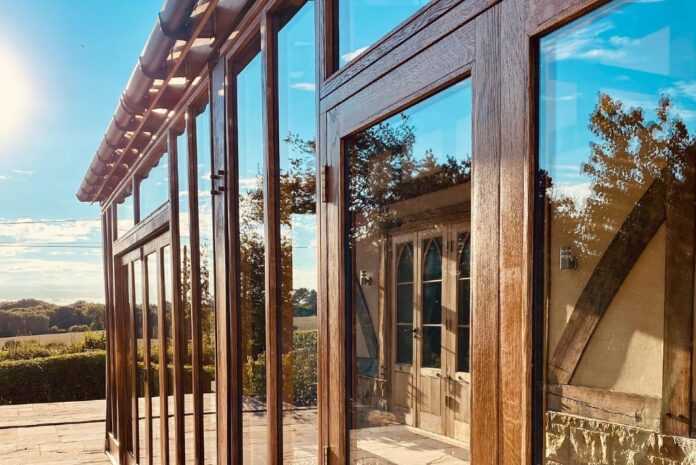 A 300-year-old, oak-framed country house stands 'picture perfect' in historical Cranbrook, Kent. But its 13-year-old orangery had seen better days. Suffering from leaks and a lack of maintenance, the 30ft orangery – which was constructed in 2010 on the south-facing elevation of the house – was in need of a full renovation.
The award-winning conservatory refurbishment specialists at Apple and Oak were tasked with replacing it with something befitting the traditional chocolate-box home but that also had all the modern benefits of comfort and performance.
Apple and Oak's team completed a full external preparation and treatment of the oak timber work, adding new leadwork, additional oak drip sections and, using TuffX as its supplier, installed a new glass roof.
The TuffX team supplied 6mm bronze toughened glass with polished edges. During installation, working with the original rafters proved difficult as they were twisted and bowed from having dried out over time. This meant that the glass had to be tightened to the rafters carefully and with equal pressure.
"This project really shows what we can do, and cements our reputation as a leading company for bespoke conservatory restoration," said Adam Brown, Apple and Oak's managing director. Apple and Oak has been a TuffX customer for three years.
"We chose TuffX as our suppliers because they have a wide range of products for homeowners looking to upgrade the thermal performance and usability of their conservatory," Adam continued. "There is a good amount of choice but not so much that it confuses customers. TuffX also provides a great sample pack so the customer can see the difference in appearance between the alternative types of glass, as well as comparing thermal and UV performance.
"From an installer's point of view, the oversize glass that TuffX can provide – single conservatory roof glass units up to 4000mm – is really useful, as it looks great and reduces the potential for leaks. Plus, TuffX offers great customer service and are always fast at providing quotes and pricing when needed." Read more about TuffX at tuffxglass.co.uk.