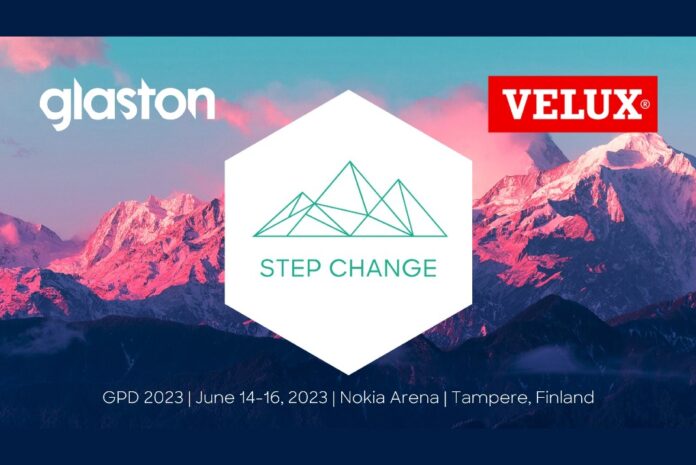 Representatives of the glass processing technology firm Glaston are to collaborate with counterparts from the roof window and skylight brand Velux Group, to promote sustainable innovation in the glass industry, at an event called Step Change Base Camp 2023. The event, which is due to take plext next month in Finland, is part of a wider conference called Glass Performance Days 2023.
"At Velux, we have an ambitious sustainability strategy and we wish to drive the building sector towards a more sustainable future," explained Tyler Leighton Moersch, lead specialist in advanced material technology for the Velux Group. "Step Change is the perfect opportunity for stakeholders in the glass industry to come together to drive sustainable innovations. By partnering with Glaston, we can make a real impact on how the industry approaches sustainability."
Sasu Koivumäki, Glaston's chief sales officer and deputy CEO, added: "We are looking forward to teaming up with Velux for the upcoming Step Change Base Camp 2023. Together, we share the same values in opening doors for new technologies and solutions. We believe that collaboration is the key to accelerating the continuous and meaningful development of our industry."
Step Change was first introduced in connection with Glass Performance Days in 2017. This year's event is set to take place during the Glass Performance Days 2023 conference, from 14 to 16 June 2023, in Tampere, Finland. Attendees are set to benefit from expert-led workshops and presentations, networking and keynote speeches, all aimed at inspiring new ideas and collaborations that contribute to the sustainable development of the glass industry.
To register for Glass Performance Days 2023 or to be part of Step Change Base Camp, visit gpd.fi/events/step-change. The event aims for attendees to learn, collaborate and contribute to the sustainable development of the glass industry. You can also learn more about Step Change and Glass Performance Days 2023 by following the events on social media.