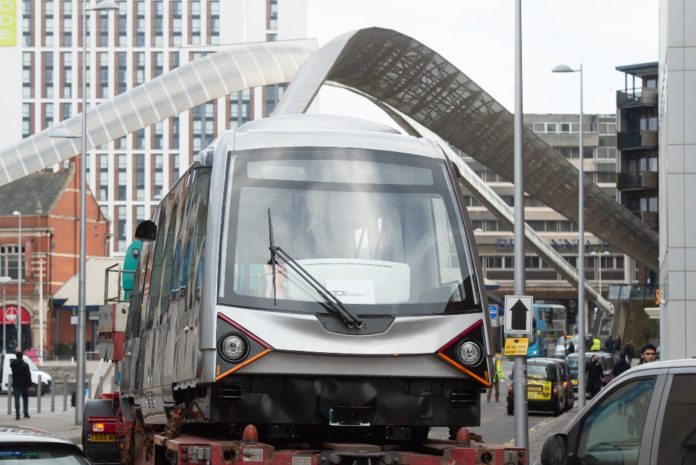 A new form of window glazing, featuring a lightweight polymer with an advanced scratch-resistant coating, has been installed on the Coventry Very Light Rail vehicle. The new windows are reportedly highly resistant to breakage, offering passengers increased safety. The glazing was designed by the University of Warwick, Far-UK and Transport Design International (TDI); it was funded by Innovate UK (SBRI Rail Demonstrations: First of a Kind 2020).
The new glazing has been fully tested to ensure that it can survive exposure to severe projectile impact, all weather conditions, and has no negative impact on the environment compared to glass. The Coventry Very Light Rail vehicle containing the crash-resistant glazing also has anti-microbial grab poles installed.
Dr Darren Hughes, the University of Warwick's associate professor in materials and manufacturing, said:
"The new Coventry Light Rail vehicle has a number of major innovations, including being lightweight, battery-powered and having reduced environmental footprint. The vehicle has shown that major steps forward can be made using a UK-centric manufacturing approach.
"The Sandilands accident report identifies clearly the need for safer glazing in trams, and we decided this would be the perfect opportunity to design and make the glazing, and see it installed. Although we have demonstrated the technology in trams, we believe it points a path for safer future glazing solutions in the wider rail sector."
Dr Sophie Cozien-Cazuc, Far-UK's technical manager, added: "Far-UK has been thrilled to be given the opportunity to develop and manufacture resilient lightweight polymeric panels for the Coventry Very Light Rail vehicle. After the Croydon accident in November 2016, there was the need for more robust glazing options. This Resi-Glaze project allows innovations from other transport sectors to be brought to the rail industry. Polycarbonate glazing has moved on from the 1980s. Far is looking forward to providing this new glazing in the transport sector in general."
Paul Salkeld, TDI's design director, said: "Transport Design International has been involved in many innovative projects over the years, and this project has sound relevance as we look to promote safer and cleaner ways of providing public transport. We are looking forward to seeing this moving forward now in many applications."