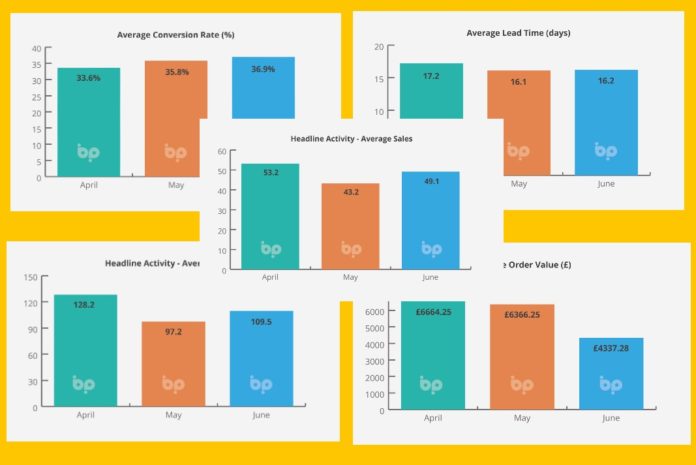 By Neil Cooper-Smith, senior analyst, Business Pilot
Having seen a drop of 12% in May, on April's figures, average sales jumped by 14% in June on May, putting the window and door sales back, firmly, on an upward trajectory. Conversion rates were also up marginally month on month, from 35.8% to 36.9%. Leads were up 12% June on May, for the most part cancelling out the 14% drop in leads seen the previous month.
While there is little sign of the market cooling anytime soon, there was, however, a significant drop (32%) in average order values: from around the £6,400 mark to £4,400. This may be attributable to seasonality, with more single product purchases, eg bi-folding and entrance doors, flowing through the sales pipeline. But we do think that it's something to watch.
The order value drop may suggest that spending generated by the first round of stamp duty completions, at the end of March, has flowed through the sales pipeline. It doesn't necessarily mean that the boom is running out of steam: a second stampede was seen last month, ahead of changes to the relief at the start of this month.
The previous break, on the first £500,000 of a home purchase, which has driven the housing boom, dropped to £250,000 on 1 July, ahead of being phased out entirely from 1 October. In real terms, anyone completing before the cut-off point will see their potential stamp duty saving drop from £15,000 to £2,500.
While we wouldn't want to nail our colours to the flag on this, if demand follows the same pattern as seen at the previous cut-off point in March, we could expect to see another increase in demand in late August and through to October. After that, while some of the stamp duty savings house buyers make may continue to trickle through, we believe that new consumer spending on home improvements may start to slow. Continuing supply issues and extended order books mean that this will not, however, translate into any significant slowdown in the market this year.
Supply chain security remains the sector's greatest challenge in the immediate term. Steel and resin prices have continued to skyrocket, and glass supply remains disrupted. This was compounded last month by national post-Brexit shortages in delivery drivers, and additional complexity at ports.
Economists warn that, despite positive order books now, wider disruption to component, material and product supply in the economy as a whole – not only construction – has the potential to derail recovery. We'd add that, closer to home, installers are losing margin on jobs because of supply challenges.
Understanding those challenges, and pricing them into the job is more important than ever. We can help you do that, by giving you full visibility of costs against each job you complete, as well as providing you with real-time reporting on your profitability.
We can also help you to manage supply chain disruption through simple, drag-and-drop job scheduling. Business Pilot isn't an overnight fix, but we will transform your business. Guaranteed. www.businesspilot.co.uk
This article was fist published in the July 2021 edition of Glass and Glazing Products magazine. Click here to subscribe to the magazine.