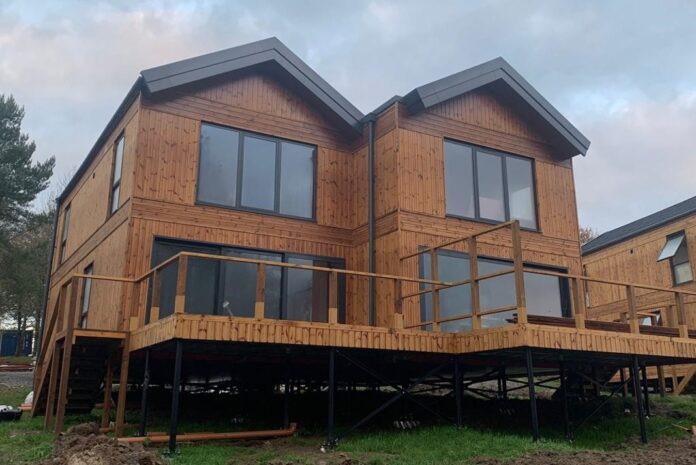 Trade fabricator Dekko Window Systems has supplied high-quality aluminium windows and doors worth more than £500,000 for a modular development in north Devon. Working with a modular housebuilder, Starship Group, Dekko has supplied £550,000 worth of its Räum bi-fold doors, patio doors and tilt-and-turn windows for the project. The products are to be used in nearly 60 leisure homes at the Highbullen Hotel and Country Club, for Starship Group's client, London and Regional Properties John Allen.
Räum bi-folds, patio doors and windows all offer sleek sightlines, smooth operation and first-class thermal performance, its creators say, while meeting the necessary industry requirements for performance with regard to thermal, acoustic and insulating capacity. They reportedly provide a smooth but strong functionality which continues to work at optimum levels for many years, and are fitted with security locking systems to provide excellent levels of protection.
Sales of the Räum range have benefitted from soaring interest in premium aluminium glass and glazing products, Dekko's representative has reported, adding that the range has helped installers across the country break into lucrative new markets. "We were proud to work with Starship Group in delivering our successful Räum products to this unique project," said Kurt Greatrex, Dekko's sales director. "Our products were sent to Starship Group's factory in north Wales where they were fitted into the luxury holiday suites that will later be installed on site in north Devon.
"Modular construction is definitely a growing market within the UK, thanks to the time and cost it saves, and lower volumes of waste. We're proud to have partnered with a developer that promotes these benefits. We're very pleased with the outcome of this successful project, and we very much look forward to working with Starship Group on future developments." For more information about Dekko, visit dekkowindows.com.