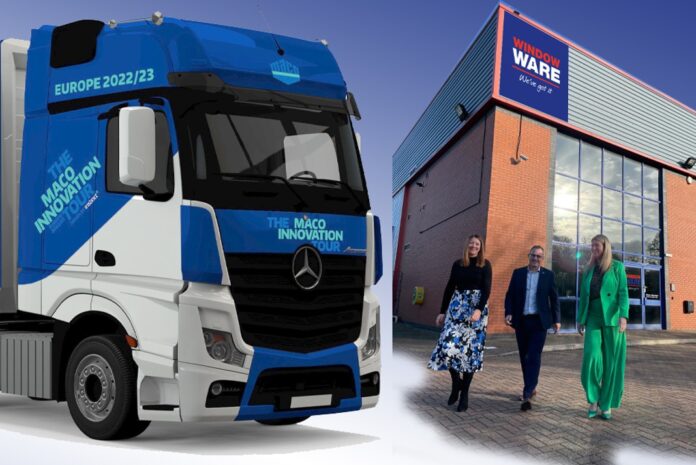 Leaders of the independent UK hardware distributor Window Ware are to join forces with the Maco team for an open day tomorrow (10 May) in Bedford, aiming to provide customers and suppliers with behind-the-scenes insights, hardware demos and new product exclusives. The Window Ware team will set out to share the firm's ethos and strong service focus with open day visitors as well as showcase the advanced systems and extensive distribution facilities that enable Window Ware to deliver its hardware provision and earn the trust of both its customers and brand partners.
The Window Ware team are to be joined on the day by representatives of the business' longstanding key brand partner, Maco. The Maco team is making a special stop in Bedford as part of the firm's Innovation Tour. Window Ware is one of just seven exclusive UK stopover locations for the tour, making this an unmissable opportunity for door and window fabricators in the area, according to Window Ware's representatives.
Visitors are to provided with the opportunity to climb on board Maco's custom, carbon-offset exhibition lorry to experience the business' latest innovations. Additionally, visitors can expect to familiarise themselves with Maco's full range of hardware solutions for doors, sliding doors and windows.
"This collaborative event is the perfect demonstration of the strong partnership between Window Ware and Maco," said Sam Nuckey, Window Ware's managing director. "I am confident that it will be time out of the office well spent for any visitors who plan to join us, with plenty of takeaways they can use to benefit their businesses back home, whether that's one-to-one product demos, best practices, individualised support or a proven way of simplifying and strengthening their supply chain. Plus, visitors get to pick the brains of both the Window Ware and Maco hardware experts all at the same time, for top-level advice to the power of two!"
Refreshments and quiet workspaces are to be made available to book, in case visitors need them. To register interest, email marketing@windowware.co.uk. As places on the lorry are limited, aspiring visitors are encouraged to book early to avoid disappointment.