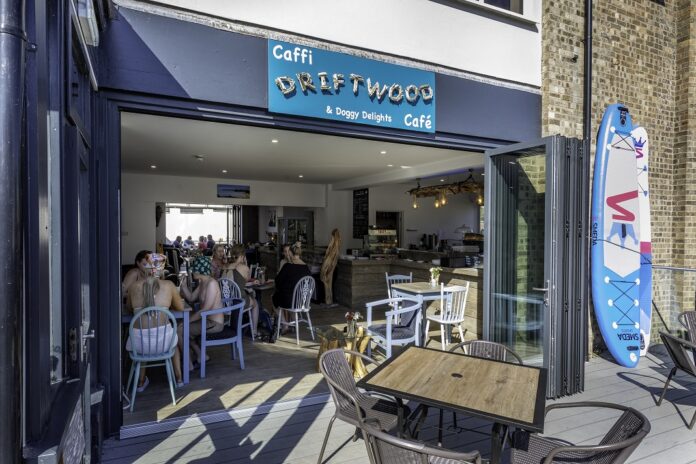 GD Windows has manufactured and installed Stellar aluminium bi-fold doors for a beachfront cafe refurbishment project in Aberporth, Cardigan Bay. Caffi Driftwood (also known as Driftwood Cafe) is now a modern, dog-friendly space that is said to be proving popular with tourists, walkers and local residents.
Tristan Jones, business development manager for GD Windows, said: "The former public house closed as a result of the effects of the pandemic. Its new owners wanted to remodel the building into a chic, modern beachside cafe.
"The brief was to open up the front and rear aspect of the building to allow al fresco dining and make the most of the impressive views across Cardigan Bay. Full-height Stellar aluminium bi-fold doors in anthracite grey were the perfect choice and with its slim, flush sightlines we were able to create the dramatic transformation that the café owners required."
He continued: "Stellar is manufactured with marine-grade powder coating as standard and comes with a 25-year guarantee against peeling, powdering and blistering, which allowed us to manufacture and fit with confidence. And as the bi-fold doors are part of the Stellar portfolio, every component has been subjected to rigorous testing to ensure the products can withstand the harshest of elements and comply with all building regulations."
The project was completed on schedule and the new café opened in April, to capitalise on the start of the busy tourist season. Tristan explained: "Replacing the original front and rear elevations with a floor-to-ceiling Stellar bi-fold door has transformed the premises. This project has proven a great success and is more than living up to the expectations of the cafe owners.
"Stellar is an exceptional aluminium system that has allowed us to secure several lucrative domestic and light commercial contracts. Its slim, flush aesthetics, impressive performance credentials and ease of installation are a gamechanger in aluminium system design and give our business a competitive edge in an ever-tightening market."