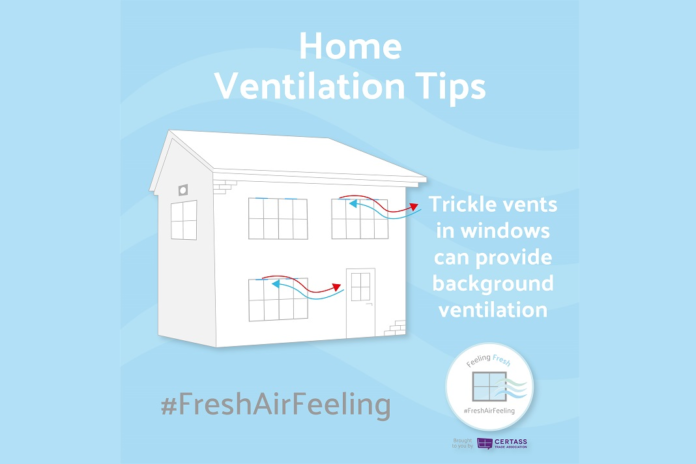 Trustmark, the UK government-endorsed quality scheme, has endorsed Certass Trade Association's #FreshAirFeeling campaign, which exists to offer home improvement businesses the tools they need to promote greater consumer understanding of the importance of ventilation. The #FreshAirFeeling campaign is also supported by the consumer champion organisation, Which?.
Through its dedicated consumer site, certifiedcompetent.co.uk, Certass created a digital pack for installers to use across their platforms, to spread the word about the importance of ventilating homes all year round. The pack includes a video, a consumer guide, social media posts, graphics and GIFs. It is available for all traders to download.
The campaign is designed to fill the consumer education gap around the ventilation regulations that apply when making home improvements.  It promotes advice and information, including ventilation-friendly installations to consider, and simple actions that residents can complete to improve indoor ventilation.
Statutory guidance from the Department for Levelling Up, Housing and Communities explains that well-ventilated properties must have a minimum level of outdoor air in them, to keep occupants healthy. There are many ways of achieving this minimum level of ventilation, including installing windows with trickle vents, ensuring that extraction systems are installed in kitchens and bathrooms, and using mechanical or whole-house ventilation systems. The #FreshAirFeeling campaign is based on the statutory guidance that has been simplified to spread a clear and compliant message.
Jon Vanstone, chair of Certass Trade Association, said: "The pack has already received good feedback from our contacts in government. We are in talks with our consumer advice partners to endorse the campaign across their own platforms to increase the reach to more UK homeowners.
"The key messages from Certass Trade Association and certifiedcompetent.co.uk are for occupants to keep their homes healthy, for themselves and their families, by always ventilating properties and ensuring they have the correct background ventilation in place when they have home improvements carried out. Many occupants already have the means of ventilating their living spaces and reducing the level of air pollutants and water vapour in their homes, by rapid ventilation methods such as regularly opening windows. But it is also vital to have background ventilation methods installed in homes in order to avoid the build up of moisture and air pollutants."