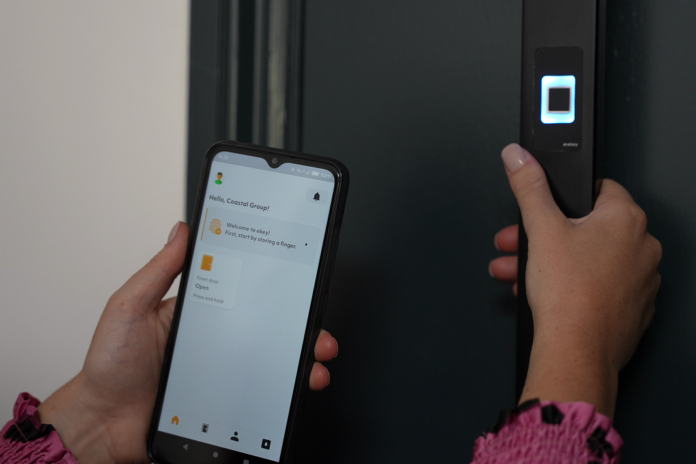 Coastal has launched its BLU-e smart access system. The system is designed to "make doors smart without the worry of difficult and time-consuming configuration and installation", its creators have said. Coastal's BLU-e system combines HAB15 316 stainless steel pull handles with ekey's dLine smart access technology, enabling businesses to offer customers "a new age of entrance doors". This access system allows the end user to open the door in three ways:
Fingerprint

: The Austrian-made ekey allows only authorised persons access to a property. This ensures 'maximum security' and erases worries over lost, stolen or forged keys, business representatives have said.

Remotely

: The ekey bionyx app allows front entrance doors to be unlocked whilst away from home using a smartphone.

Alexa voice command

: After confirming a four-digit code, the system allows the door to be open by voice command.
The BLU-e smart access system is delivered as a complete 'pre-wired' package, with all the components required to connect to the power supply. Housing the scanner unit within the pull handle means that the buyer doesn't need to find an additional location for it on their door, Coastal's representatives claim.
Coastal's ML3120 (Winkhaus AV3 premium autoLock) works in conjunction with the BLU-e pull handle set, activating as soon as the door shuts. The system is flexible, allowing the customer to choose whether they want pull handles on both sides of the door or a pull handle on the outside and a lever handle on the inside.
Homeowner benefits
The security provided by its fingerprint scanner system and smart experience. No worries over lost, stolen or forged keys.
The convenience of opening the door from any location remotely.
Simple touch operation: it only takes one hand to unlock and open the door – perfect when hands are full of shopping.
BLU-e is part of a suited range of door furniture, allowing for a consistent aesthetic across doors and windows. For more information about BLU-e, call 01726 871 025 or email marketing@coastal-group.com.
Earlier this year, Coastal added two products to its Duratique range: a ring door knocker and a curly tail door handle. Read more here.