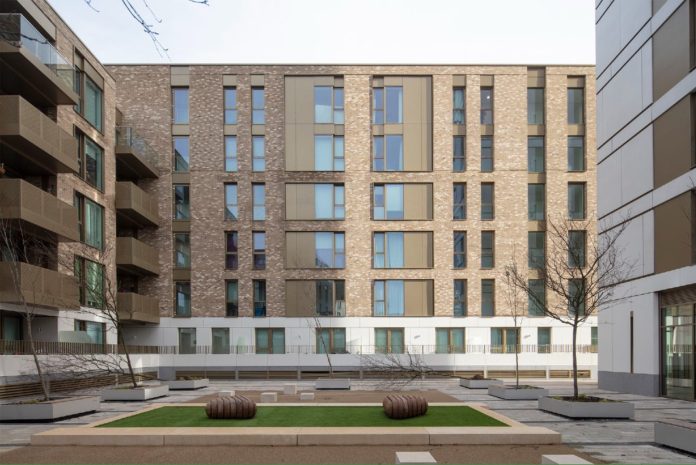 Wicona's aluminium windows, doors and curtain wall solutions have been specified and installed as part of an extensive redevelopment at Thrayle House, Brixton, London. The large-scale project marks the latest phase of a £200m regeneration project.
Originally built in the 1970s as a social housing complex, Thrayle House now comprises a variety of family houses, duplex dwellings, dual-aspect apartments and penthouses. Properties within the 170-home structure vary in scope, size and nature but are unified by a consistent external aesthetic, which extensively features Wicona's range of aluminium windows, doors and curtain wall solutions.
Reece Barnes, commercial director of Alliance Facades, the specialist façade contractor who completed the project, said: "It was clear the entire delivery team wanted to do something big with this regeneration. As such, we decided to use Wicona's high-quality aluminium windows, doors and curtain wall systems to frame the building. Throughout the industry, the company's range is seen as a premium solution, so it was a natural fit for this build. With the company's assistance, the project has been finished to an incredibly high specification."
At Thrayle House, Wicona supplied its Wicline 75 Window solution and Wictec 50 stick system curtain wall solution, as well as bespoke items. Attuned to the architectural requirements of the future, the Wicline 75 Window solution offers superior performance and is the first window to be certified to the Minergie-P®-Standard. The company's Woctec 50 curtain wall solution provides architects and designers with the freedom to create architectural facades with variable angles, up to 90° on the uprights.
As well as offering exceptional performance levels, Wicona's suite of products allowed for an easy installation process. This helped to mitigate logistical challenges. Reece addeed: "We were delighted to be involved with the Thrayle House redevelopment project. Working with Wicona, we were able to ensure the successful design, supply and installation of its aluminium windows, doors and curtain wall solutions. The company's systems were incredibly straightforward to install and its team of technical experts were always helpful on the occasions when an on-site issue, or query raised its head." Click here for more information about Wicona.