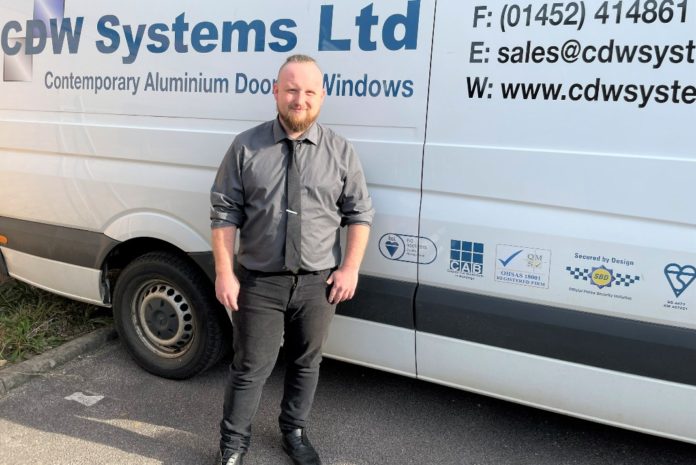 Aluminium fabricator CDW Systems has appointed Luke Pemble as its new office supervisor. Luke first joined the company, part of the East Manor Group, as an agency temp, five years ago, working on the shop floor. The 33-year-old was quickly promoted to the office, to help with processing orders, before being promoted again to office supervisor.
Luke said: "Since I walked through the door, CDW Systems has been a fantastic place to work. It's been brilliant to be able to work my way through the business. Over the last five years, I've been able to get to understand the business, and, while the last year and a half has been tough due to the pandemic and record demand, it has been the perfect learning curve."
Jeremy Phillips, group chair, said: "I'd like to congratulate Luke on his promotion. After he joined us, Luke quickly made a name for himself and, as has happened before at CDW Systems, we saw the potential there and moved him into the office.
"Particularly during the challenging last 12-18 months, he really stepped up to the plate and we recognised that ability, interest and drive. He's a great colleague and the move is well deserved."
Jeremy added: "While recruiting through an agency can be hit and miss, word of mouth and internal promotions have been our most successful recruitment avenues. Attracting more people into our industry is vital, but it's also just as important to recognise the talent we have, and help them move through the business if they want to. When we have got the right people, we don't want to lose them."
Established in 1992, CDW Systems is one of the UK's longest running aluminium specialists. It has grown into one of the most well-respected specialists in the trade supply of aluminium window, door and curtain wall products. For more information about the company, visit www.cdwsystems.co.uk or call 01452 414 853.