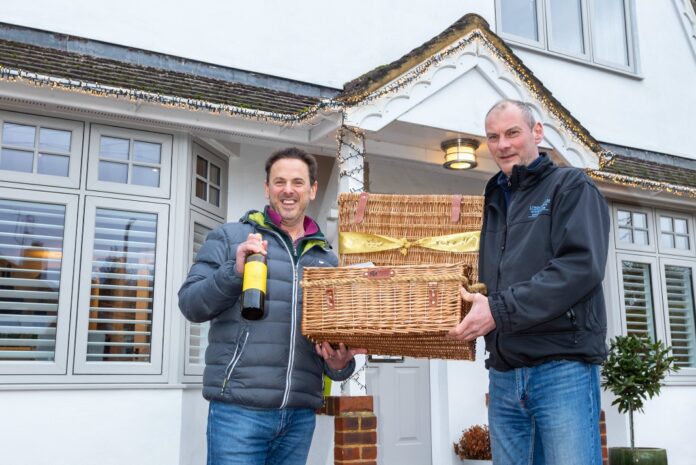 Representatives of Universal Trade Frames have judged their best installation of summer 2022. The installation featured the award-winning flush casement window system from Epwin Window Systems, fabricated by Universal Trade Frames and installed by the local business, Lynch Cooper. The Lynch Cooper team and the homeowner received a hamper for winning the competition.
The domestic project featured seven flush casement windows, including two bay windows, at a three-bedroom, semi-detached bungalow in Maidenhead, Berkshire. All frames were manufactured in white internally; the external face was sprayed Purbeck Stone.
Terry Saunders, who is responsible for area sales and marketing/technical sales at Universal Trade Frames, said: "We ran our summer competition over two months, and the Maidenhead installation was the obvious winner for us. It's a high-quality installation and is one of the only properties in the UK to use the bespoke Purbeck Stone colour."
He added: "On this installation we priced for both flush casement windows and standard casement windows. The homeowner chose the flush casement option, despite the higher price tag, due to the window's next-level heritage aesthetics.
"It's a trend we only see increasing over the next couple of years, with more bespoke properties being built and converted. The slim and equal sightlines of the Epwin Window Systems flush casement window system give it an edge over comparable products, particularly because we can deliver a bespoke product that's fully mechanically jointed and has astragal bars."
Universal Trade Frames was established in 1996 and has been an Epwin Window Systems fabricator from the start. Terry went on to say: "Epwin Window Systems has some of the best products in the industry. And, as the photos of this installation show, the quality is exceptional.
"We'll be running another photo competition in March and we're looking forward to seeing more examples of stunning finished results!" Read more about Epwin at epwin.co.uk.