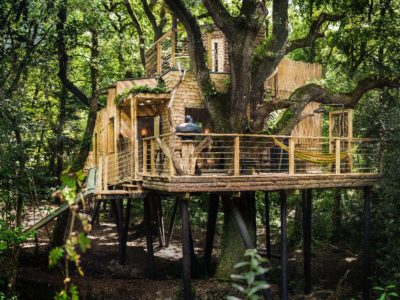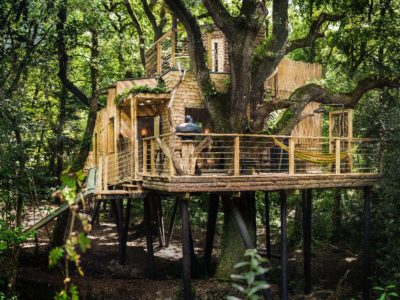 The Woodman's Treehouse in Dorset is a private and unique retreat set high up in the branches of a veteran oak. A combination of sustainable craftsmanship and luxurious interiors, the two level treehouse offers uninterrupted vistas through the tree canopy across the magical Dorset woodland. The project has created a huge amount of media attention, including featuring in a recent episode of Channel 4's George Clarke's Amazing Spaces.
It proved to be a special moment for Axminster based, Roof Assured by Sarnafil installer, Climax Windows, when they were invited to install the Sarnafil single ply roofing membrane on the flat roof deck of the treehouse. Brian Deem, managing director, and his team worked directly with treehouse owner, Guy Mallinson and his architect, to install 60m2 of lead grey Sarnafil membrane on the decking surrounding the jacuzzi area. The flexibility of the mechanically fixed Sarnafil membrane was perfect for this project which involved some complex detailing and upstands around the deck railings. Once the membrane was installed, it was covered with timber decking to continue the natural woodland feel.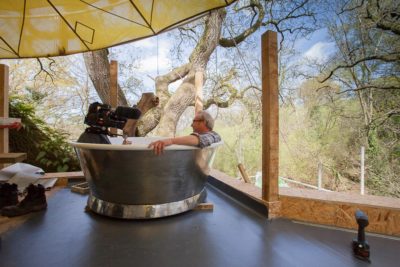 Owner, Guy Mallinson, was keen to use local contractors for this undertaking and chose Climax Windows for its proximity and because the company is a registered installer of the high performance Sarnafil membrane. Quality, craftsmanship and looks were an important feature of this design.
Roofing installers are used to working high up but in this instance they were literally in the trees working alongside other installers on what can only be described as a one off project.
Nick Hinds at Climax Windows said: "This was a fantastic project. There was a real sense of working on something special and creating owner Guy Mallinson's vision of a magical, luxurious treehouse. Contractors worked side by side and it was great to see old methods, crafts and natural materials used. The Sarnafil membrane fulfilled all the performance and environmental credentials needed for this project.
"In all roofing installations correct detailing is critical and there is true craftsmanship in completing complex flat roof detailing and upstands. We've 12 years' experience of installing the Sarnafil membrane which is an unbeatable product backed by great support from the Sika Sarnafil technical team."
Brian Deem added: "It has been wonderful to have been given the opportunity to work on such a unique project with a great bunch of people. We are proud to be Roof Assured by Sarnafil installers and know that only the Sarnafil membrane would ever have been good enough for this project."
Read more about The Woodman's Treehouse and see a virtual tour http://www.mallinson.co.uk/treehouse.html