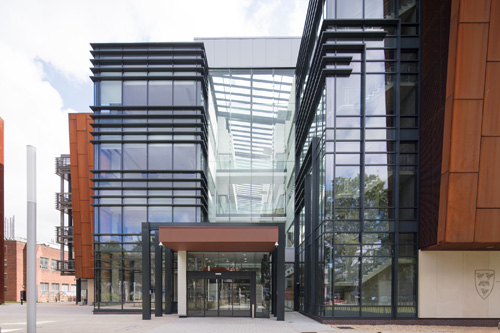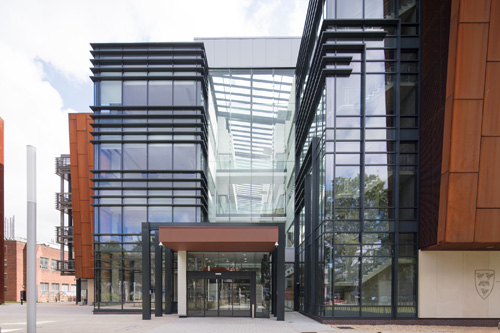 Advanced glazing systems from the range of Technal have been employed by Dortech Architectural Systems for the construction of the new Materials Innovation Factory (MIF) located within the University of Liverpool's 'Knowledge Quarter'.
The 11,600m2 multi-million project has been led by BAM Construction with Dortech Architectural Systems having designed, manufactured and installed a package of products that included MX62 curtain walling, as well as FXi windows and CD Doors.
Fairhursts' designs have created a central, four-storey atrium above which Dortech Architectural Systems installed a continuous run of MX52 sloped roof glazing, together with FXi 65 actuated opening vents. As well as bringing ample natural sunlight to the central realm of the building, these automatic opening vents will help create a safe escape route in a fire emergency. They are glazed with argon filled 31.5 mm IG units containing a 6mm heat-soaked, toughened outer leaf and a 9.5mm laminated inner pane, protecting people below from any risk of breakages.
The MX62 curtain walling on the north and south elevations, together with the link corridor, contain 34.8mm units made up of 8mm toughened and 10.8mm laminated inner leaf, separated by a 16mm argon filled cavity.
The site manager for Dortech Architectural Systems, Andrew Moseley, commented: "For MIF starting in spring the installation took 52 weeks, before which we had carried out the majority of the detailed design work for the glazing systems, including the MX 62 Grid, and worked with Technal on the supply of the special caps. CD double doors and one single door, all for emergency egress, complete the package."