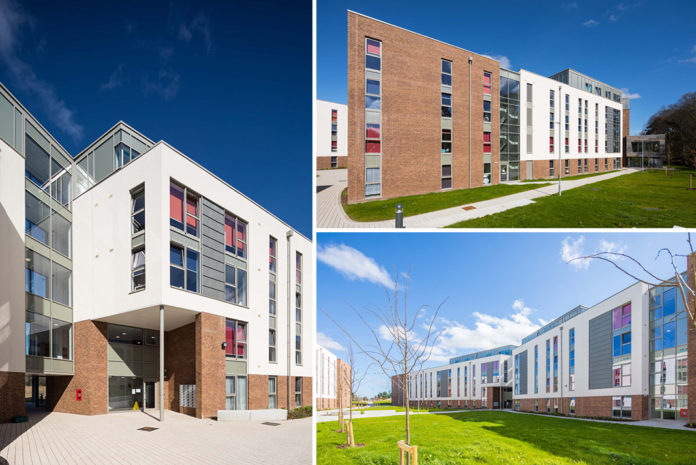 Over 630 Sobinco Chrono aluminium tilt and turn window systems with SF Xtra trickle vents from Titon have been installed at three student accommodation blocks at Heriot-Watt University in Edinburgh. The new, contemporary designed halls of residence contain over 450 large, single en-suite rooms, as well as shared kitchen/lounge areas.
The three buildings were designed by Fletcher Joseph architects and built by Watkin Jones, with Glasgow-based company, Marshall Brown (Windows), responsible for the fabrication of the windows.
Brian Ross, commercial manager at Marshall Brown (Windows), said: "We opted to use Titon, having previously fitted their hardware on numerous projects. As a company, their products and services are second to none. For the Heriot-Watt University buildings, both the Chrono and SF Xtra vents offered ease of fabrication, while the tilt and turn systems are robust, as well as easy to maintain and replace. Plus, as they utilise plastic rods, there is no risk of corrosion, which is excellent from a reliability perspective."
According to Titon, the SF Xtra is a high performance, surface mounted aluminium slot ventilator. It is reported to be the shortest trickle vent on the market to provide 5,000mm² EA, making it suitable for domestic and non-domestic applications. There are two width variants, one for use over a 13mm slot, the other for a 16mm slot.
The vent is also available in made-to-measure sizes or bar length for self-assembly, with all versions suitable for use with either a plastic or aluminium canopy.
Sobinco Chrono fast-fit hinge and locking systems are suitable for most aluminium link bar profiles. Titon adds that they are suitable for virtually all variations of open-in window, with options available for high-security and French casement. A standard tilt and turn unit can reportedly be assembled in around five minutes, while a choice of handle designs and RAL colour finishes are also available.