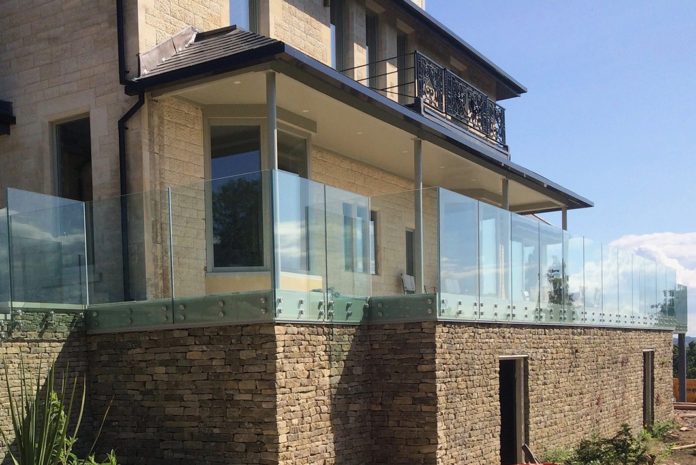 Safety glass specialist, TuffX, has supplied 50m2 of laminated toughened glass to a prestigious residential property, situated in the heart of Cheltenham's picturesque countryside.
The owners of the property had specified a bespoke glass balustrade in order to maximise the potential of an elevated terrace at the rear of the building – one that is said to command outstanding views over the surrounding area. The brief for the balustrade, which extends the entire length of the terrace as well as to a flight of steps leading up from a garden area, was two-fold – as an important part of the building's overall aesthetics, it of course had to be visually appealing, while at the same time it also had to perform to strict structural and safety requirements in order to ensure the well-being of occupants.
As a result, and thanks to the reputation of both its products, and its customer service, TuffX says that it was approached to supply a total of 28 toughened and laminated panels, using 21.5mm glass, including polished edges and radius corners complete with 25mm diameter holes.
Graham Price, TuffX managing director, commented: "This project is a perfect demonstration of how the addition of our laminated and toughened glass balustrades can improve an already very desirable property. We are seeing a growth in demand for our safety glass offering, particularly in impressive residential buildings such as this, as its strength and performance means that it is becoming increasingly popular with both homeowners and architects who want a visually appealing yet structurally sound solution to enhancing outside spaces."
TuffX, which has recently announced an additional £500m investment in its facilities following further expansion earlier this year, claims to have developed an unrivalled reputation for its high-performance glass, which is suitable for both domestic and commercial applications. The company supplies its toughened and laminated safety glass in a range of thicknesses, from 11.5mm to 39mm, and can deliver nationwide from its 75,000ft2 facility in Merseyside.