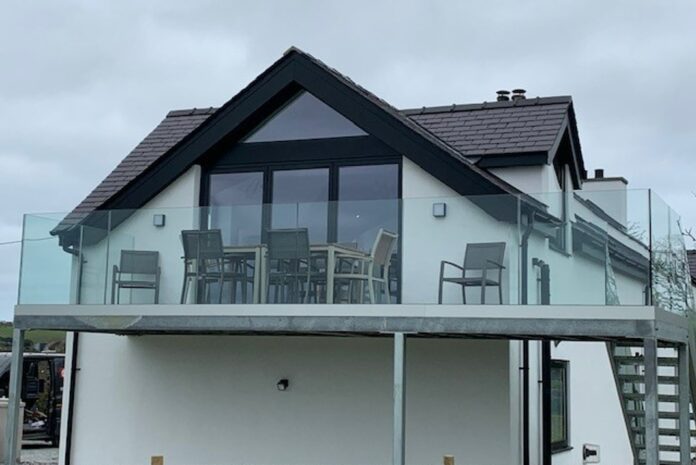 When a homeowner is lucky enough to have stunning views across the Welsh countryside, they need an equally stunning balustrade solution that will let them make the most of it. This is where a leading safety glass specialist like TuffX can help.
For this Anglesey-based project, TuffX supplied 25m² of 17.5mm toughened and laminated glass for the frameless glass balustrade and staircase, which was used to create a safe and elegant additional outdoor space that also gives some protection from the elements. The 17 individual panels – a combination of rectangular and CNC-shaped parallelogram panels, all with polished edges and dubbed corners – were delivered direct to site.
Near-invisible frameless glass balustrades mean that even when the weather is too bad to be outside, views from inside remain unimpeded, with no railings or bars interrupting the sightlines. The finished balustrade brings an easy-to-maintain modern update to the home, while the panels' smooth, polished edges ensure comfort too.
Accessible both from the first floor of the property and from the garden, the resulting space brings the whole of the outside and inside together, with views across three of the four directions from the house. "We love seeing finished projects like this as it's what we specialise in," said Paul Higgins, TuffX's commercial director. "Whatever your project requirements, we can deliver nationwide and pride ourselves on always maintaining the highest standards of service and quality."