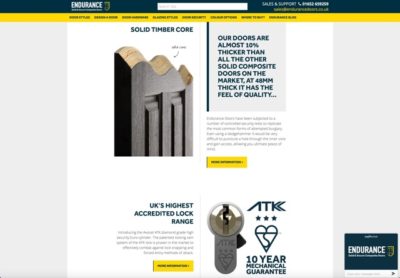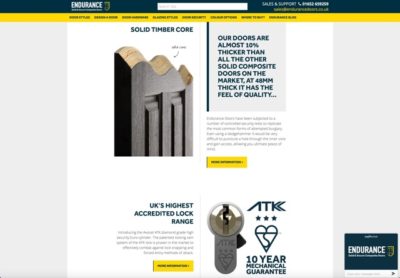 Endurance Doors has launched a new website at www.endurancedoors.co.uk.
The new site details information on the Endurance brand of solid and secure composite doors, offers a door designer and can also generate consumer leads for the brand's Preferred Installer network.
According to Endurance, the new website is particularly well developed for mobile devices, with over half of the traffic to the site coming from phones and tablets. With the new door designer facility now live, installers and consumers can quickly build door designs in a screen size that maximises the size of the door.
Product details feature heavily on the website, which includes 16 different door slabs and 14 foiled frame finishes, along with a range of hardware, including the ATK 3-Star cylinder. According to Endurance, this is the only product of its type to be adopted by Neighbourhood Watch. It is also Kitemarked and tested by the Master Locksmiths Association.
Companies that are part of the Preferred Installer network can order online through eCloud, the new online portal for all Endurance Doors customers.
According to Endurance, Preferred Installers will also start to benefit from an ongoing Search Engine Management (SEM) campaign that involves building a stronger presence from an organic point of view, but also from a lead generation perspective through Pay Per Click banner advertising. There's also a Live Chat facility through a Zopim chat widget for both consumers and installers.
Stephen Nadin, managing director of Endurance Doors, said: "This isn't just a new website but a customer portal for online ordering, thanks to the Business Micros Evolution back end. We're now also actively involved with a PPC campaign for our Preferred Installers as we continue to experience considerable growth."