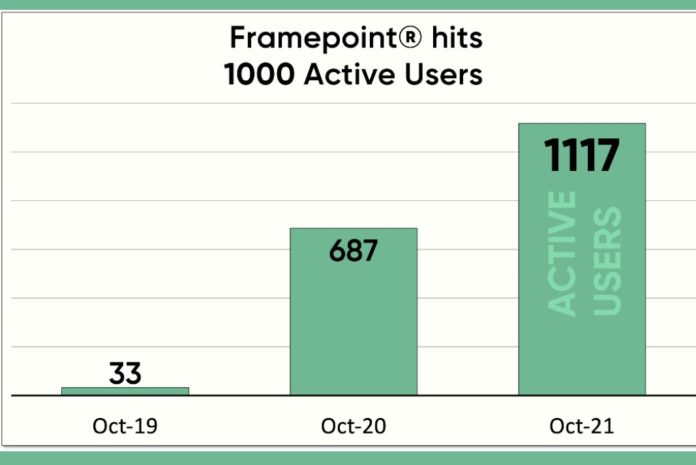 Software company Tommy Trinder has reported passing the threshold of 1,000 active users for its Installer-Award-winning Framepoint app, for the first time, in October. "It's the need for speed that's driving growth," said founder and CEO, Chris Brunsdon.
"Installers want to be able to bang out quotes quickly and efficiently, in order to make every penny they can from the current market boom. Framepoint is built to help installers get quotes out the door fast – it's the tool for the job."
The value of work quoted by installers on Framepoint is on the rise too, the company says; £64m of supply-and-fit work was quoted via the platform in October, a new monthly high. Rising average quote values are also a feature, with quote values averaging £5,300 over the last three months, compared to £4,700 in the same period last year.
"Framepoint subscribers have always been able get a bit more on every job, because it's so easy to show off premium features such as foils, dual colours, dummy vents, mechanical joints, flush casements and surface-mounted bars in a very visual way. But the ongoing rise in average quote values also points to supply chain price rises filtering through, together with installers taking improved margins on lengthening order books," added Chris.
Tommy Trinder reports that more than 11,500 homeowners have received a quote generated by Framepoint in the last three months. More than half of those were provided with visualisations to accompany their quote.
"The makeover tool, where installers provide a mock up to the homeowner of their new windows in situ, is definitely becoming a staple part of the quoting process," said Chris. "A notable 58% of homeowners receive them, currently. When you consider the ease with which consumers are able to model other significant purchases like cars or kitchens, it feels inevitable that offering the client a visual of windows and doors will become the norm."
Installers can find out more about Framepoint, and book a free demo, at tommytrinder.com.