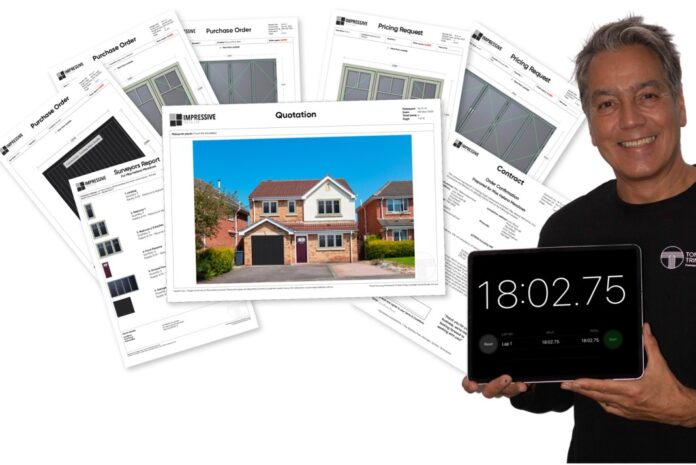 In a buoyant market, the key to making hay while the sun shines is a fast and efficient quoting process. But what does it take to be efficient? And just how fast is fast? We challenged founder and CEO of the software company Tommy Trinder, Chris Brunsdon, to quote a houseful of windows on Framepoint. And we put the stopwatch on…
With demand in the window and door industry reaching record levels in recent months, managing the quoting backlog has been a significant challenge, with many installers working evenings and weekends just to keep up. In the process of developing the Installer-Award-winning Framepoint app, Chris and his have had conversations with hundreds of windows installers about the trials and tribulations of getting quotes out of the door quickly. The learning, said Chris, is clear: "Being efficient is not just about banging out the quote, it's the total time it takes to generate every document you need to complete the sale, and pass the products into manufacture that matters. That's the time that you need to measure and speed up, if you're looking to unlock real time savings.
"First and foremost, installers need a super quick and easy way to enter product information. Next up, it needs to be really fast to send jobs off for pricing, if needs be. The ensuing paperwork flow needs to happen without the need for rekeying information, and should include the quote itself, a contract for the homeowner to sign, paperwork for surveyors and, finally, clean purchase orders ready to send off for manufacture."
Increasingly, Chris explained, homeowners are also expecting a visualisation as part of the quote, showing how their new windows and doors will look in situ. "When you consider the ease with which consumers are able to model other significant purchases like cars or kitchens, it feels inevitable that offering the client a visual of windows and doors will become the norm. This is another element that can add time to the quoting process."
So, up against the clock, how long did it take Chris to generate this end-to-end document suite using Framepoint? The answer: 18 minutes and two seconds. "Call it 20 minutes," said Chris. "That's to generate every document required to complete a typical sale, including sending off pricing requests, doing the quote, plus an accompanying makeover, printing off a contract ready for the homeowner to sign, generating a full set of documents for surveyors, and finally, processing the order and sending to manufacturer."
An added complication when it comes to getting quotes out quickly, said Chris, is that Installers are frequently faced with having to juggle multiple suppliers on one project. "An aluminium bi-fold, some sash windows and a handful of casements, for instance, all sourced from different manufacturers, each with a unique pricing regime. The process of splitting orders and sending some or all parts off for pricing is very time hungry. Framepoint helps with this; allowing installers to easily combine products in multiple materials, from multiple suppliers in one professionally presented document."
The document suite created by Chris Brunsdon as part of this time challenge can be downloaded here. The quote included both PVC-U and aluminium products.