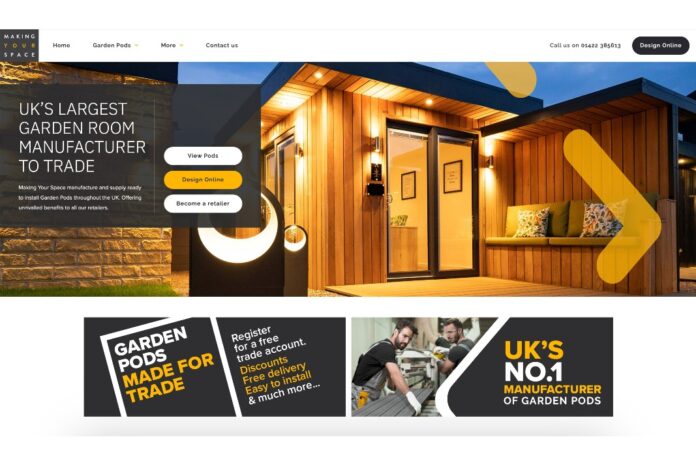 Making Your Space has launched 'the ultimate garden room portal for the trade' at makingyourspace.co.uk. The site is packed with useful information, and features a unique, cutting-edge 3D design platform.
With homeowners across the UK seeking additional living space for home offices, gyms or places to relax, the garden room market is set to explode in 2022 and beyond. Making Your Space is a trade-only business supporting this emerging home improvement sector. Its new website is proving a fundamental part of its marketing programme, thanks to the garden room builder and other useful content.
The site hosts dedicated homeowner and trade sections, while a gallery and several example builds are displayed to help inspire visitors. A full list of options for windows, doors, cladding and flooring has been carefully laid out, along with the finishing touches of lighting, heating and power detailed on the website. Additionally, a news section and list of frequently asked questions are available on the site.
But the 3D garden room designer is the site's main feature, allowing visitors to quickly build prospective buildings. The platform is also available for design partners, as part of a comprehensive support programme of marketing and training. Backend margins, costings and selling prices can be quickly added and adapted on the software platform too.
Ryan Crossley, director of Making Your Space, said: "We've taken considerable time to put together our marketing programme, and that includes the website, home to all of our digital assets including the garden room designer. But the fact that we can offer our design partners an embedded option of this software development is a major plus for them, so they can actively market and promote the considerable sales opportunities for this new revenue stream."
For further information about Making Your Space and its trade-only range of premium garden rooms, call 01422 385 613, visit makingyourspace.co.uk, or email hello@makingyourspace.co.uk. You can also follow the business on social media using @MakingYourSpace.