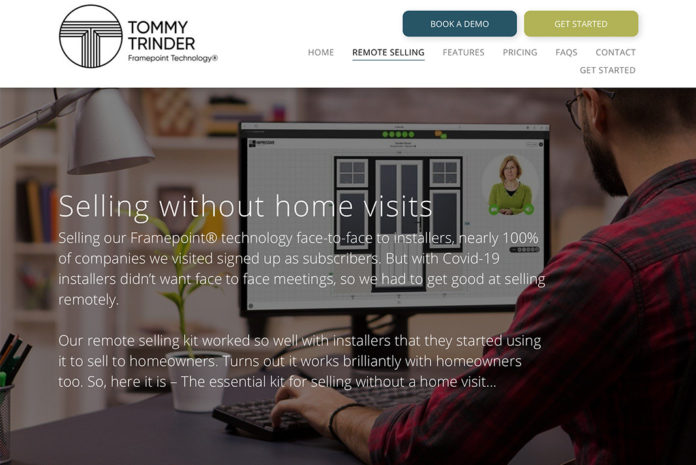 As an industry that relies on selling to people in their homes, Covid-19 and a nationwide lockdown threatens installers everywhere. And because it threatens installers, it threatens the industry that supplies them.
The situation is changing day by day, and we're all trying to adapt as quickly as we can. But if installers stop selling completely, the industry will grind to a halt very quickly. Many small firms and companies who supply them will go out of business.
However, not being able to physically visit a customer at home doesn't mean they can't sell, and it doesn't mean business has to stop. Modern presentation technology allows installers to continue to contact and sell to homeowners remotely, and those that do so now will set their companies up to succeed when the lockdown is over.
Homeowners (or installers) can take photos of the house and – remote from each other – design the windows and doors together, discussing the details via email, over the phone or even video calls, screen-sharing photorealistic images and quotes. Most industry visualisers fall well short of this capability, but most of us carry an intuitive, very smart phone in our pockets and take that level of sophistication for granted. Software shouldn't dictate how you sell or inhibit you because it's slow or clunky – it should enhance the way you want to sell.
I loved selling in the home for our family business, and selling quality windows and doors to homeowners underpinned the success we had at TimberWindows.com and at Jack Brunsdon Ltd. But I also love tech and being able to inspire homeowners with visions of how their property could look, wherever they are.
I believe remotely-enabled installers will soon take it for granted that they can also sell without leaving their showrooms, and homeowners will take that benefit for granted too.
For more on remote selling – and my experience in adapting my own business to sell this way – visit: www.tommytrinder.com/remote-selling.
Chris Brunsdon,
CEO of TommyTrinder.com