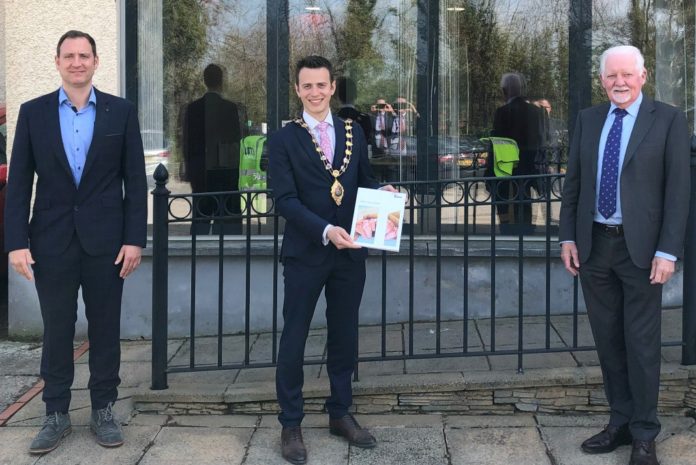 Door manufacturer Apeer has announced another sizeable investment in machinery this year, during a site visit by the local council's mayor. The mayoral visit by Peter Johnston followed what has been an exceptional time for Apeer and its sister brand, Lumi windows – the Ballymena-based business, Northern Ireland, has seen two factory expansions, most recently, the completion of an additional 20,000ft² extension. The business has also recently increased its workforce with the creation of 45 new jobs.
Among the machines set to be installed in the newly expanded plant as part of this latest investment are a five-axis CNC router, a second four-head seamless welder, a four-axis CNC machining centre and a ceramic roller robotic cleaner. In addition, a four-head plasma treatment machine is to be delivered to the site in the summer.
The mayor requested the visit to see first hand what is now one of the largest manufacturing businesses in the area. He met with Apeer's senior management team to get an overview of the business and how it has grown in the past five years, and to discover how, despite the challenges of the pandemic, Apeer has managed to maintain its strong growth position.
"The past year has been a time of great challenges for our industry but also great opportunity for us, which we have been quick to capitalise on," said Chris Wilson, Apeer's production director. "Since reopening our doors safely after lockdown, we've seen unprecedented demand for our composite doors and Lumi windows as people who have spent so much time at home now look to upgrade their homes with the best in craftsmanship and built-to-last quality.
"Lumi, our award-winning frameless window and door range, has taken the self-build market here by storm. And, with the projection of more homes being built across the UK, we expect demand to remain high and we are determined to grow the business through 2021 and beyond.
"This latest round of investment in new machinery will enable us to continue to increase workflow, efficiencies and overall productivity to help feed this demand. This, along with our ongoing investment in digital marketing to further build our Apeer and Lumi brands, will help ensure we stay at the top of our game. Our aim is to continue to be the first port of call for customers who want unrivalled quality windows and doors."