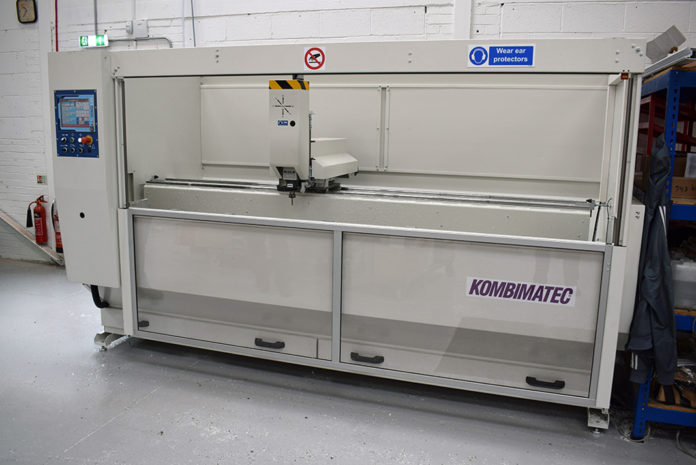 In business as an aluminium window and sliding door fabricator and installer for just three years, volumes had reportedly grown quickly for North East Bifolds, based at Seaham, near Sunderland so the owners decided to invest in a CNC machining centre.
However, having made the decision to purchase such a machine from one supplier, directors Tony Meah and Chris Craggs, say that they then switched to a Kombimatec AMC308 after seeing one in action at a business associate's factory and examining the high quality offered in that firm's prod-ucts
"We work with TSA Aluminium on various projects from time to time," explained Tony Meah,"and just before we placed an order for a CNC machining centre with another company, we happened to see the Kombimatec machine at TSA in operation. The efficiency, ease of operation and the quality of the work it produces made us completely re-think our choice, and we called Kombi-matec."
When Kombimatec MD, David Parsons, took the enquiry he insisted upon fully evaluating North East Bifolds' needs before taking an order: "David is very clued up and helpful," said Tony "and wanted to assess our needs to make sure that the machine was right for us. As it happens, it has been the perfect choice with the results proving themselves in the increase in output and quality. In fact," added Tony, " we have been so pleased with the CNC machine and the way that Kombi-matec has looked after us, we have now bought one of the company's double mitre saws."
The Kombimatec kit installed at North East Bifolds is the company's AMC308 automatic CNC ma-chining centre, which has been developed for both aluminium and PVC-U profiles. It automatically performs all drilling, routing, slotting, tapping and milling functions via a sophisticated control sys-tem and intuitive touch screen interface and includes electronic variable speed control and four adjustable pneumatic clamps. The installation is fully enclosed for safety and noise reduction. North East Bifolds also upgraded their machine to include an automatic tool change cabinet to fur-ther increase efficiency. The compound double mitre saw subsequently purchased, is the Kombi-matec DGS570, which also uses advanced control software and fully complements the machining centre.
According to Tony, North East Bifolds began life after his housebuilding firm consistently experi-enced poor deliveries and product quality from its window and door suppliers: "Builders need win-dows and doors on time and in full, and we were let down so often that Chris and I decided to set up and make our own," said Tony. "Our commitment to supplying builders when we say we will do it, has really worked for us to the point where we needed to invest in the Kombimatec to step up output and maintain and even improve quality. Business has grown rapidly making and installing Schuco doors, especially in high-end homes, together with Smart windows and doors. We have an excellent reputation now and the business is now outstripping our day jobs," he joked.
Founded in 1984, Kombimatec is reported to have delivered more than 20,000 machines world-wide for frame production using both PVC-U and aluminium profiles. With a design and manufac-turing base in the UK, Kombimatec machines have an excellent reputation for being easy to use and simple to maintain. The company's CAD-equipped experts assist with factory planning using technical expertise built over more than 30 years serving the UK frame manufacturing industry.