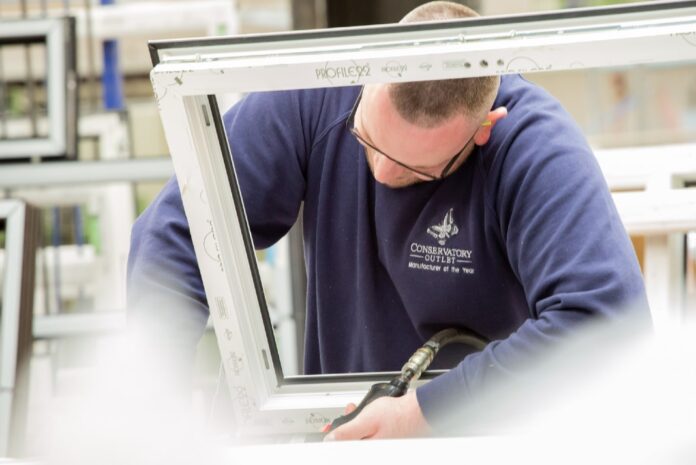 Investing in digital transformation has helped Wakefield-based Conservatory Outlet bounce back to a 98.5% on-time in-full record over the last four weeks. Conservatory Outlet, which supplies a 27-strong network of home improvement retailers across England and Scotland, aims to build on this over the next six months.
At the heart of the business' approach has been a £250,000 investment in creating a live tracking system in the factory, meaning that everyone in the business has real-time information about where a product is in the manufacturing process, starting from initial order right through to dispatch. Led by group head of IT, Craig Schmidt, the implementation of the new digital system has also offered critical information on improved order planning, material utilisation and predictive maintenance on machines. This has reduced downtime.
"The whole team has worked tirelessly over the last six months to get production back to what we saw prior to Covid-19, with a stable supply chain and full control of the factory," said Michael Giscombe, managing director of Conservatory Outlet. "This has basically translated into lead times being brought back into what customers would normally expect, despite volumes increasing by 20% since March 2019."
He continued: "We had been looking at introducing more digitalisation to the shop floor, but the pandemic accelerated how quickly we did this. The live tracking manufacturing system has been a real gamechanger for the business, delivering efficiencies we didn't deem possible six months ago.
"Craig and his IT team have opened our eyes now. This will be the first of many steps along our digital transformation journey."
Whilst technology is playing an increasing role in production, Conservatory Outlet continues to be committed to developing its workforce and recruiting the talent of the future. The company is training its office team to allow them to better respond to any customer service or product-related issues. A new training academy for attracting and developing future sales talent is also set to launch, and will be rolled out across its network of retailers.
Michael concluded: "There are so many fabricators out there worrying about the 'next big thing' that sometimes they forget the basics. It's been a tough challenge over the past two years, but we can confidently say we have quality and reliability nailed on for our customers and we're back to pre-pandemic levels of service, consistently.
"A big thank you to our clients who have been patient during the initial disruption and worked with us to collectively get the right result for our sector." For more information about Conservatory Outlet, visit conservatoryoutlet.co.uk or follow @conservatoryuk on Twitter.