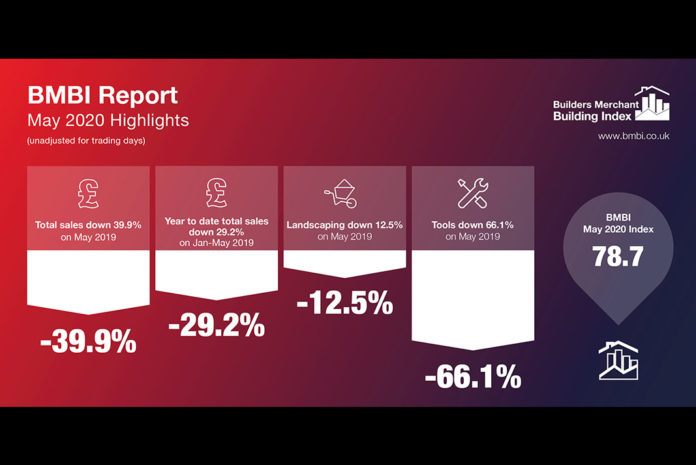 The latest figures from the May Builders Merchant Building Index (BMBI) report reveal a sharp rise in sales as lockdown restrictions ease and trades return to work.
Year-on-year, Total Builders Merchants value sales in May were down -39.9% compared with May 2019, reflecting the cautious reopening of merchant branches with many still operating a restricted service. However, the overall trading figures are a significant improvement on April 2020 sales (-76.3%).
A closer look at how individual product categories performed in May reveals that year-on-year, Tools (-66.1%) and Kitchens & Bathrooms (-62.7%) have been hit hardest by the pandemic lockdown. Timber & Joinery Products were also down by 40.5% over the same period, however month-on-month, the category is showing some green shoots of recovery with sales more than tripling compared to April 2020 (+199.5%). Heavy Building Materials, the largest product category, was down 39.0% year-on-year but showed a substantial month-on-month improvement on April 2020 (+157.6%).
The biggest winner in May was Landscaping, with sales of this seasonal category down just -12.5% on May 2019. This is a remarkable recovery from April, when sales were down a massive -74.4% compared to April 2019. Workwear & Safetywear was less affected by the lockdown, with demand for PPE continuing to drive sales.
The BMBI is a brand of the Builders' Merchants Federation, developed and produced by MRA Marketing. The Index uses GfK's Builders Merchant Point of Sale Tracking Data which analyses sales out data from over 80% of generalist builders' merchants' sales across Great Britain, making it the most reliable source of data for the sector.
BMF CEO, John Newcomb, commented: "As expected, May's sales figures show a huge year-on-year decline, but they also indicate the strength of the initial bounce-back from April's COVID-19 crash low-point. The massive effort by the entire supply chain to develop and implement COVID-secure working practices to enable the safe and rapid re-opening of manufacturing facilities, merchant branches and construction sites can be seen in May's results. There is a long way to go on the road to recovery, but we can look on this as a positive first step."
Emile van der Ryst, senior client insight manager at GfK, added: "The Builders Merchants sector has seen a strong and expected recovery from April's lockdown as the core categories of Heavy Building Materials, Timber & Joinery and Landscaping drive market activity. May growth is still down by -40% from last year, with the next couple of months critical. Favourable weather conditions and relaxed restrictions will hopefully provide the platform for these core categories to recover some of the losses seen during lockdown."