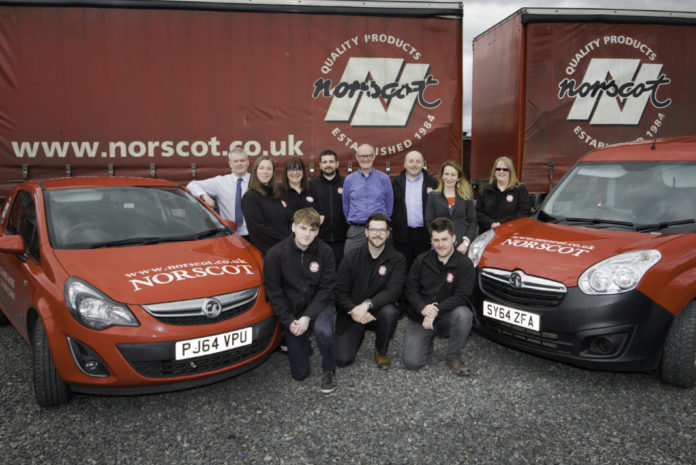 Veka UK Group customer and Independent Network member, Norscot, is celebrating the company's 35th anniversary.
Established in 1984 in Caithness, Norscot is said to have quickly developed a reputation as a reliable supplier and installer of high-quality windows and doors.
Since then, the family-owned company has continued to grow from strength to strength and is now a significant employer for the region with more than 60 staff, a near £5 million turnover and thousands of customers throughout the UK and overseas. Along with PVC-U window and door systems from Veka UK Group, the company is also a manufacturer of timber frame kit homes, timber windows and doors and 'Aluwood' aluminium-clad timber windows and doors
Norscot has been a Veka customer for 31 years and is reported to be a proud member of Independent Network. This means the company has undergone rigorous vetting to prove it meets the high standards of the organisation in order to offer its ten year insurance-backed guarantee on installations. As an Independent Network Fabricator, Norscot is also authorised to supply other IN installers thereby maintaining the 'unbroken chain of quality' that the Network is known for.
Managing director, Callum Grant, said: "We have to say a huge thank you to everyone that has supported us over the years. Particularly our hard-working staff, some of whom have been with Norscot 30 years or more."
"Veka UK Group has played a significant part in Norscot's successful growth, as the calibre of these PVC-U systems has helped further reinforce our reputation for quality and attention to detail.
"We have an ethos of continuous improvement; we're very proud of our success and we continue to embrace new technologies and opportunities. There have been many changes in the industry and in the company since it was founded, and 35 years ago I don't think we could have anticipated the way technology would transform our business.
"We've evolved from a traditional joinery company, to one that can provide products such as intelligent windows and doors controlled by your smartphone and we're working with the University of Strathclyde on virtual reality (VR) opportunities, as well as partnering with Northumbria University to develop intelligent smart homes. These future proof properties are designed and equipped in such a way that older and less mobile people are able to remain in their own homes for longer, a concept backed by NHS Scotland and social services."
Veka UK Group's sales director, Neil Evans, congratulated Norscot on the company's 35th anniversary: "Norscot has always been keen to explore new technologies and invest in product development to serve the best interests of its customers. It's no surprise that such a hard-working and innovative company should be celebrating a milestone like 35 years in business. The team deserves every success, and while this is a good opportunity to reflect on the past – it seems like they have lots of exciting things to look forward to. Here's to the next 35 years!"