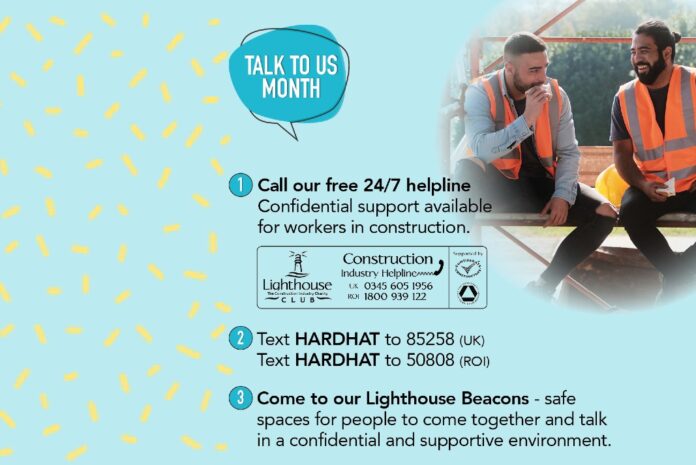 Throughout the month of July, the Lighthouse Construction Industry Charity is raising awareness of the importance of talking about wellbeing issues with friends, colleagues and professionals, to prevent situations from spiralling to crisis point. The Talk to Us awareness raising month mirrors that of the Samaritans, which holds events every July to encourage communities to talk more.
Bill Hill, CEO of the Lighthouse Construction industry Charity said: "Last month, we saw a record 300 calls to our 24/7 construction industry helpline. People are feeling more able to reach out and talk to someone. No problem is too large or too small. If they're not comfortable with talking on the phone, they can use our text support service to chat. They can even visit one of our Lighthouse Beacons to meet and talk face to face in a safe environment.
"Talking can make us feel vulnerable, but it shouldn't be seen as a sign of weakness. We know that all the work we are doing, together with efforts of the industry is helping to reduce the stigma of talking about feelings and problems."
The charity has partnered with National Grid at its interconnector site in Kent to offer a wellbeing facility encouraging a positive wellbeing environment. At the site, people can share their issues and signpost workers to information about how to reach more tailored support.
Nicola Medalova, managing director of interconnectors for National Grid, said: "More needs to be done to improve support and services offered within the sector. That is why we have partnered with mental health professionals from the Lighthouse Construction Industry Charity to provide support to all of our workers and provide easy access to a huge range of wellbeing support. As well as this, there are lots of informal ways to connect with workers and build relationships, particularly for those who feel intimidated by professional help. Sometimes just talking to a friend or colleague can help."
If you are struggling, or know someone who is, you can reach out for 25/7 free and confidential support via the 24/7 helplines (0345 605 1956 from the UK and 1800 939 122 from the Republic of Ireland), text HARDHAT to 85258 in the UK or 50808 if you're in the Republic of Ireland, or visit constructionindustryhelpline.com.