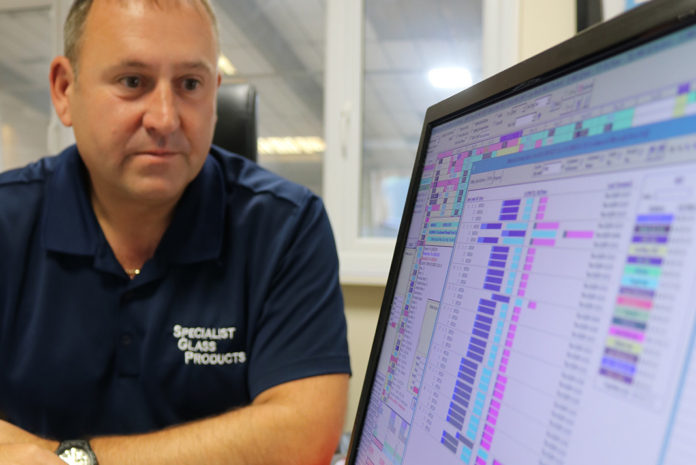 Specialist Glass Products has reported significant efficiency gains through investment in order processing and optimisation software from Clear Thinking Software.
The glass processor and IGU manufacturer, which specialises in the manufacture of shaped glass and IGUs, moved into a new state-of-the-art 41,000ft2 extension to its pre-existing 30,000ft2 site last year as part of a major growth strategy.
This has been supported through investment in software including Glass Office, which has been designed to support management of the complete order process from quote and through production, and the glass optimiser tool, GlasSave – both from Clear Thinking Software.
Andrew Taylor, managing director, Specialist Glass Products, said: "Glass Office is a highly adaptable platform.
"Our focus on higher value and specialist work means we're running many more processes. We're cutting, polishing, CNC processing, drilling, toughening, bending, laminating, and manufacturing IGUs.
"Glass Office allows us to manage orders, plan and gives us full visibility of manufacture at all stages of the production cycle. It allows us to run orders across different machines to optimise production and still give us full visibility of where that product is at any time as long as it's been scanned.
"We can now see exactly where each piece of glass is and if it isn't where it should be, to work out if we have a problem and correct it before it impacts on delivery dates or customer service,"
Developed specifically for the glass processing and IGU sector, Glass Office was launched by Clear Thinking Software in 2001. Its current incarnation is said to be the product of more than 30 years continuous development and refinement offering a series of unique features including the ability to manage pricing, discounts and orders; schedule a mix of IGU manufacture with process work; track failed units to specific production cycles to understand the cause of those failures; print labels, delivery notes and schedule deliveries.
It does this using bar code and scanning technology to provide real-time visibility of exactly where product is in the production cycle, and in relation to staging gates critical to on-time customer delivery.
The GlasSave optimiser is designed to work with a wide range of glass cutting tables, helping to maximise outputs from 3,210 x 2,250/2,550mm sheets as well as full jumbo 6,000 x 3,210mm sheets, creating clear cutting plans based on daily production requirements.
In addition to this, it also takes into consideration the available space for sorting and storing cut glass, nesting shapes, for example balustrades, wherever possible, also storing and re-using off-cuts, where appropriate to do so.
This is said to deliver significant efficiency savings compared to manual cutting of between 10 to 30%.
"As your volume grows your efficiency starts to depend on who you have on. It's also very different optimising 20 sheets a day compared to two," added Andrew.
"Our use of Clear Thinking's optimiser saves us a minimum of 10% on wastage on our production and it doesn't matter who's on the table," he concluded.