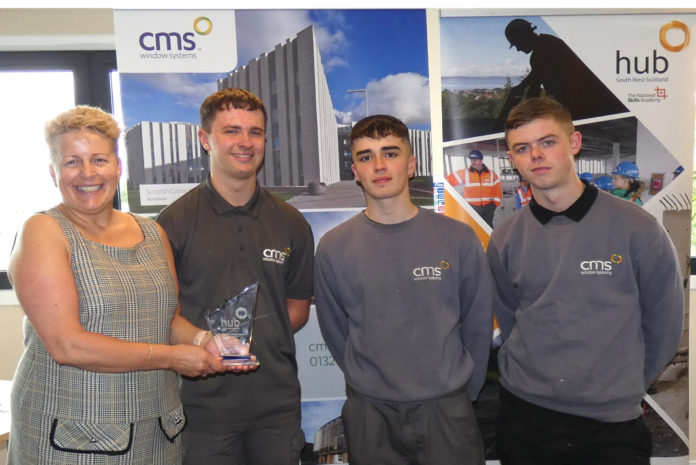 CMS Window Systems has announced that it has been recognised for its dedication to providing employment opportunities for young people, and the role it is playing in addressing construction's skills shortages. The company was honoured in the Skills and Training Academy Awards by Scottish public-private development partnership, hub South West.
The award for Best Employment Initiative for Young People was presented to CMS Window Systems reportedly for its long-term strategy in providing training opportunities and career paths for young people from all backgrounds.
This has included attaining over 100 modern apprenticeship qualifications since the company's inception in 2006, which is said to be more than any other window and door manufacturer of its kind.
CMS was recognised for its youth employment, the introduction of construction as a viable career path, structured framework apprenticeships, graduate programmes and initiatives targeted at women, as well as disadvantaged and disabled people. In addition to reducing youth unemployment and NEET (not in education or employment) rates, these kinds of initiatives are said to be crucial to addressing the skills shortage right across the construction sector.
The award comes as CMS completes its latest educational outreach activities for local students at different stages of their formal schooling, designed to introduce them to the career opportunities available in the fenestration industry. This included recent visits by further education students from Dumfries & Galloway College and younger students from Denny High School, during which CMS provided a full programme of activities aimed at inspiring their future career choices.
David Ritchie, CEO of CMS Window Systems, said: "We are delighted to receive this award from hub South West. To be recognised for our dedication to providing employment and career opportunities for young people is an honour and a credit to all those involved.
"Our recently launched CMS Academy has been a particularly exciting development, enabling us to offer a comprehensive and structured training programme to even more apprentices in future."
Michael McBrearty, chief executive of hub South West, said: "The skills shortages we have within our sector are all too well-known and these awards mark an important new phase in our partnership's commitment to raising the bar within the industry. In addition to supporting our commitment to engaging local communities, the small and larger firms involved with hub South West also strive to play their part in tackling wider skills issues across the industry. It is only fitting that we should applaud their efforts."