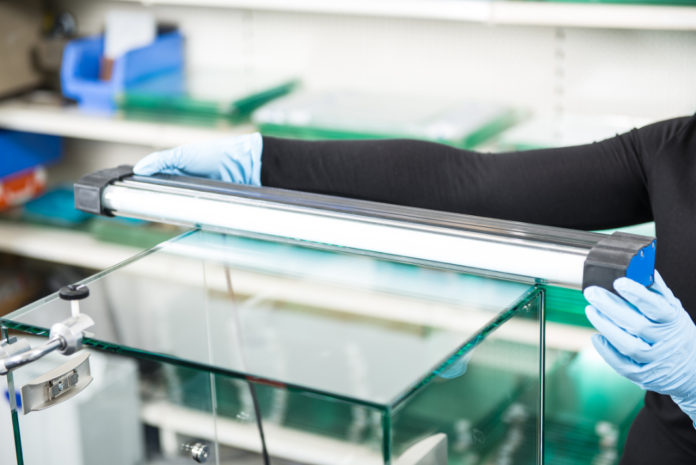 Bohle has continued its programme of support for the up-skilling of the industry with GQA certification of its UV bonding course and status as an approved training centre.
It means that Bohle's UV bonding training course is now officially accredited by the qualification awarding organisation.
Amanda Carr, Bohle's training lead and co-ordinator for the new training centre, said: "It's not about us telling people what to do but giving them an understanding of the things that they need to know to achieve what they're trying to do.
"Furniture makers or shop fitters won't necessarily have a detailed understanding of glass so it's about giving them the basics, for example, they need to know the particular edge quality demands for the process, as well as recommended minimum thicknesses.
"It's also about giving everyone an understanding of not just how-to UV bond glass successfully but also the limitations of application and the alternatives to it."
Bohle says that its UV bonding unit, for the most part, emulates the company's core customer workshop but with the addition of a series of Q&A and practical assessments. This includes training on optimum environments for UV Bonding covering everything from room and glass temperature to storage of adhesives.
It also explores glass requirements and cleaning to safe manual handling, UV light and equipment and adhesive application and clamping.
Bohle has been awarded accredited training centre status following the successful training and approvals of its own training and assessment team including Julia Francis and Andy Riste.
"As a GQA Accredited Centre, we have to ensure that our course meets expected standards of training but also assessments are carried out against standardised criteria and that the correct records are maintained throughout training and assessment processes," said Amanda.
"It effectively puts training in the hands of the industry but guarantees the quality and standardisation of assessment through a series of checks and balances.
"This gives the Bohle UV unit a very practical focus which translates directly into increased efficiency and improved product quality.
"It's also worth mentioning that the course and training units are delivered in our showroom and training centre, which helps recreate a workshop environment – it's not about classroom-based learning."
Bohle says that it is a key advocate of industry training, giving its support to the Building Our Skills campaign, also signing up as sponsor of the Best New Glass Processing Operative category in the associated Recognising New Talents Awards.
It has also raised awareness of the skills challenge facing the industry, through a series of roundtable events. The most recent of these revealed that the industry saw recruitment and retention of shop floor staff combined with a failure to attract younger workers into the industry, as a threat to the long-term sustainability of the glass and glazing sector.
Dave Broxton, managing director of Bohle, said: "Our new partnership with GQA represent a real and meaningful move toward closing the skills gap, as well as raising the industry's profile."