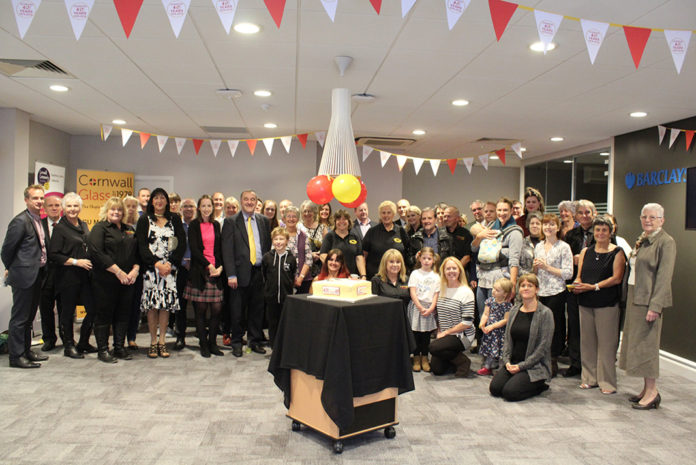 Celebrating its 40th year in business, glass processor and IGU manufacturer, Cornwall Glass, has donated in excess of £19,000 to charities and community groups throughout Cornwall.
Cornwall Glass launched its '£400 for 40' campaign at the beginning of this year, with the aim of reaching out to grass roots community organisations and charities throughout the county.
Administered by the Cornwall Community Foundation, Cornwall Glass received more than 70 applications for the £400 individual awards. Exceeding its own campaign target, in the end these were made to 48, rather than the planned 40 organisations.
Celebrating the awards at a 40th Anniversary 'tea-party' at the end of October, it brings the total donated to community groups through the Cornwall Glass Fund, since being set up in 2009 to more than £80,000.
Kati Bawden, one of seven 'colleagues' to sit on Cornwall Glass' Awards Panel said: "What's amazing and inspiring is that so many of these organisations are being run by people who have been through some pretty difficult times individually but who have come out the other side of them with a commitment to help other people.
"Although we originally intended to issue 40 awards – one for each year that we have been in business – we found it just too difficult and because not everyone needed the full £400 donation, we had a reserve which we were able to reallocate to other deserving organisations."
Recipients of the awards included organisations as diverse as Trial Kids, a group aimed at getting children active with their families; Safehouse, a project which provides a place for transgender people to meet and feel safe; multiple brass bands; a male voice choir; Cornwall BMX Club; Redruth Highway Community Project; Untangled, a peer-to-peer support group for pre and post-natal depression and anxiety; and numerous school PTAs.
Cornwall Glass has seen rapid growth through a series of acquisitions, giving it new reach across Southern England and the Midlands, employing more than 300 people.
This has been accompanied by investment, with £5million alone invested in Cornwall Glass Plymouth in its state-of-the-art IGU facility.
Having opened in 2016 it has capacity to manufacture more than 2,000 units each day, including over-sized units, which it supplies to retailers, commercial installation businesses and developers, across southern England.
Tamas Haydu, CCF chief executive, said: "Cornwall Glass has always supported Cornish communities and they set up the Cornwall Glass Fund to ensure that support continues in perpetuity. Awarding 48 grants in 2018 alone, to mark the Company's 40th year, is a measure of their commitment to helping local voluntary groups and charities flourish."
Mark Mitchell, chairman, Cornwall Glass said: "Celebrating our 40th year in business we wanted to reach out to as many groups as we could in our local community and give back a little to them. We feel privileged to have supported 48 groups doing great work across Cornwall."