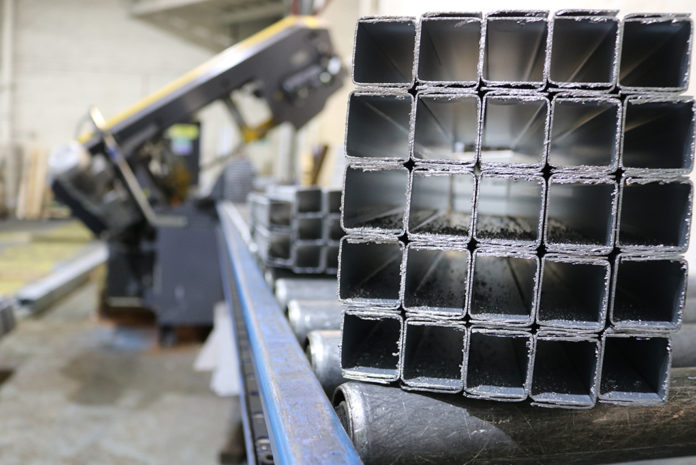 Newly released financial and operational modelling from Anglo European suggests that fabricators can achieve savings of more than £240,000 a year, simply by buying-in reinforcement direct, rather than through their systems supplier.
The figures, which are based on buying-in cut-to-size reinforcement, represent the culmination of labour and employment costs, reduced wastage and the lower unit price achieved through direct supply.
According to Anglo European, this reveals 'significant savings' for even smaller fabricators, with those manufacturing only 100 units a week achieving average savings of £235 a week or £12,220 a year. Anglo adds that the potential savings for those manufacturers producing around 1,000 frames per week runs as high as £2,354 a week or £122,408 a year.
Savings for larger fabricators are, according to Anglo, even more impressive – up to £184,000 per year for manufacturers doing 1,500 frames per week and £240,000 a year or more for those making 2,000 frames per week.
"Clearly the bigger you are, the more you benefit from economies of scale, but even smaller fabricators can save more than £10,000 a year by buying window and door reinforcement cut-to-size and direct," said Lee Marriott, group business development director, Anglo European.
"With rising overheads and particularly increased labour costs, the opportunity to take labour out of your business or reapply it, while also reducing wastage i.e. if you buy reinforcement from us, that immediately drops to zero, these are savings that fabricators can't afford to ignore."
Anglo European announced in January that it received a series of independent test approvals on its PVC-U window and door galvanised reinforcements.
Conducted by Build Check, testing found that reinforcement options from Anglo European matched requirements for weathertightness set by Rehau, Veka and Liniar, for reinforcement – with full compliance with BS6375-1:2015.
Completed at the end of November, the series of independent assessments also found that both of the coating grades offered by Anglo, which include GZ275UK and GZ140EU met reinforcement performance criteria set out by the three leading systems companies.
Lee continued: "For us, it's about offering fabricators choice. Either of the two coating grades that we offer will deliver savings against buying through your systems company – in some cases by as much as 40%. Those are savings that are at the very least, worth consideration."
Anglo European offers a 10-year guarantee on all steel reinforcements it supplies – and regardless of which of two galvanised steel coating options they choose, GZ275UK or GZ140EU. The company adds that all the reinforcement it supplies is also manufactured in exactly the same grade used in the reinforcements supplied by Rehau, Veka and Liniar.
With independent testing ongoing with BuildCheck on other systems, including Eurocell, KBE Profine and Deceuninck, Anglo has said it expects to be able to announce further approvals in Q1 this year.