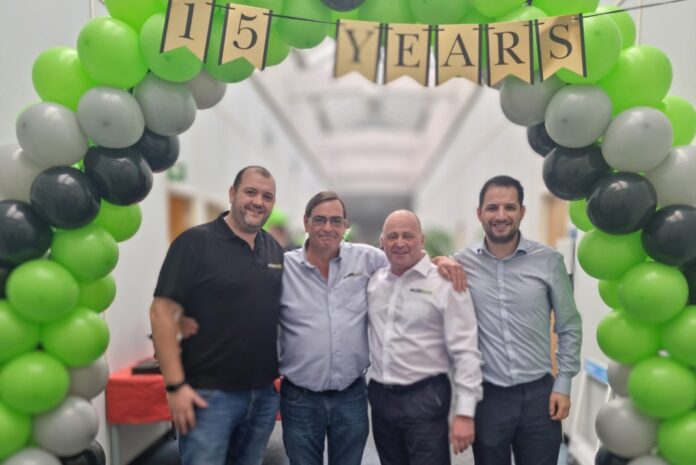 Staff of the bi-fold hardware manufacturer Debar are marking the firm's 15th anniversary this year. Since being introduced to the industry in 2008 by founder Graham Fawthrop, representatives of the Bradford-based company say that the business has 'truly revolutionised the bi-fold market'.
Peter Sutcliffe, Debar's managing director, said: "We're passionate about being much more than a bi-fold hardware manufacturer, so we developed a comprehensive training programme which includes specialist sessions on the design, manufacturing and selling of bi-fold doors. "Ultimately, we want to help companies achieve success within the bi-fold market, so we'll always give as much advice and support as we can to educate anyone wanting to learn more about developing a quality bi-fold."
In addition to working closely with customers, the team at Debar has dedicated time and resources to continuous development over the years. In 2015, the team was awarded an ISO9001 certificate.
"We're incredibly passionate about the market and products we manufacture, which means we invest in the latest software and machinery and also spend time making sure we're kept up to date with the latest industry trends," Peter added. "Receiving the ISO9001 certificate was a fantastic achievement for the whole team, and shows our customers that we're fully committed to deliver a fantastic high-quality service as well as robust and reliable products."
Despite Debar's successes over 15 years, the team is showing no signs of slowing down, as Peter went on to explain: "It's fantastic to look back over the last 15 years to see how the company has continued to grow and evolve. With the recent launch of our brand-new line of Veltѐ handles, the rollout of our international strategy and even more exciting projects in the pipeline, I'm really looking forward to what the future has in store as we push forward and continue to grow as a company."
To contact the Debar team, email sales@debarhardware.com or call 01274 673 547. Alternatively, visit debarhardware.com. To read more about the latest recruits, visit this link.