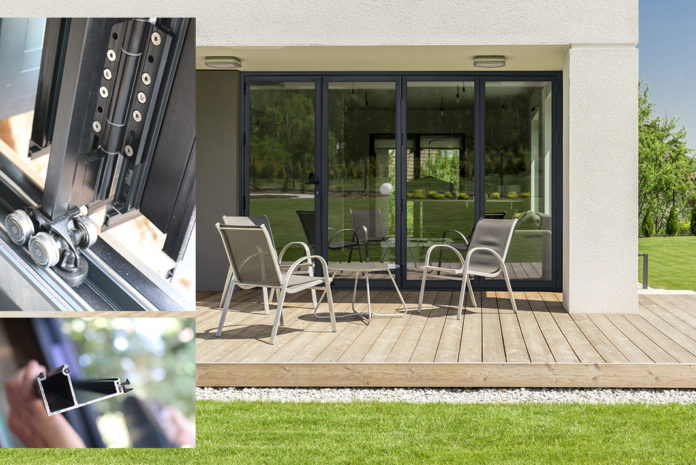 The owner of an installation company has rated the new Decalu88 aluminium bi-fold from Deceuninck Aluminium as 'absolutely market leading' when it comes to ease and speed of fitment, strength, finish and aesthetics.
Zep Moore, owner of Moorstyle, gave a full appraisal of the Decalu88 bi-fold to members of the glazing industry press recently, via a Zoom video conference call, live from his work van on site. See video at end of this article.
The Decalu aluminium system, which incorporates the Decalu163 aluminium lift-and-slide and Decalu88 Entrance Door, uses a co-extruded, pre-inserted gasket that's designed to significantly reduce the amount of glazing time required per unit and dramatically speed up installation times as a result. The gaskets are back with rigid PVC-U, which according to Deceuninck Aluminium, helps to eliminate call backs as they won't shrink.
With previous systems, Zep explained that he would usually schedule one day to fit a bi-fold, but with Decalu, he claims he is able to fit two jobs in a day, thanks chiefly to the speed and ease at which he can complete the glazing.
"This is the Volkswagen of bi-fold door systems, the one that other systems companies will have to strive to – it's just far superior," commented Zep.
"Is it too heavy? Not for me, that's a good thing, it shows that it's quality," he continued. "It's actually cheaper than the 77mm system that I was using, but I'm that confident with the overall system, the profile and the look – I'd even pay a bit more for it.
"For me, it's a market leading system," Zep continued. "The pre-inserted gaskets – and the way all the screws are concealed – the compression on the gaskets and the feeling of quality when you close the door. It's fantastic."
The Decalu88 bi-folding door, which is available in dual-colour and marine grade finish as standard, offers 'U' values as low as 0.68W/m2k with triple glazing or 1.4/m2k double glazed. Each sash can accommodate weights of 200kg and up to 3m in height, with two 7mm fully adjustable jambs that provide 14mm of tolerance for out-of-square openings.
Click here for more information.