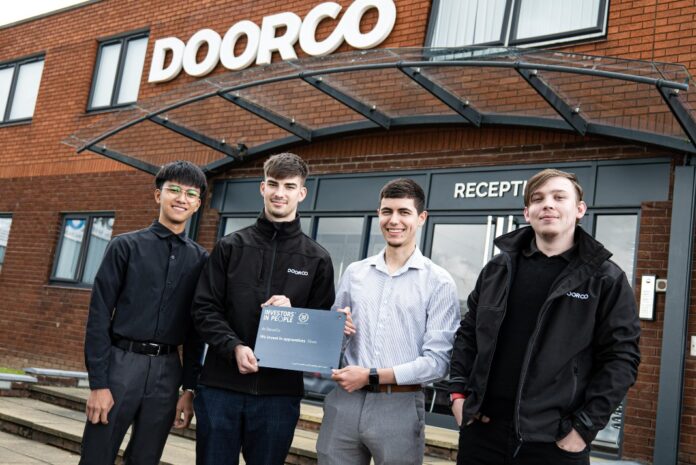 DoorCo has achieved silver status for its efforts to attract and train new talent. Investors in People, the UK standards agency for people management, awarded DoorCo its 'We invest in apprentices' silver accreditation, providing a framework for the composite door supplier to deliver apprenticeships. It is the first time that the composite door supplier has been assessed by Investors in People for its work in this area.
Jayne Sullivan, DoorCo's co-owner, said: "We are delighted to have achieved 'We invest in apprentices' silver accreditation for the next three years, based on the apprenticeships and training we have delivered so far." She added: "As an industry, we need to do more to attract talent.
"The fenestration industry is fantastic to be part of and one that offers opportunity for varied and fulfilling careers for young people. Promoting this at grassroots, through schools and universities is key, and by offering apprenticeships, we are able to invite young people into our thriving industry. This is something DoorCo is passionate about."
Matthew Elliot, DoorCo's systems lead, has been instrumental in obtaining the accreditation. He said: "To be awarded silver on our first assessment is an incredible achievement and a credit to the hard work of all the managers, mentors and apprentices at DoorCo. We are very much committed to delivering our action plan that is focused on providing our current and future apprentices – a new generation of talent – a structure to help them develop their skillsets and knowledge at the very start of their lifelong careers with us. We are already working towards obtaining the gold accreditation.
"Investors in People is widely recognised as the benchmark for good practice in training and development. To achieve the accreditation, we underwent a vigorous assessment which explored the business, our people and the existing apprenticeship programmes. The resulting accreditation not only marks DoorCo as a good employer but it provides a practical framework for the next three years to help us enhance our apprentice experience and monitor how well we're supporting them at work, including development, communication and support.
"Apprenticeships give DoorCo an opportunity to develop skills relevant to our organisation. They are available at multiple levels and ages – not just for young people leaving education – and therefore provide an opportunity for people upskilling in their careers or looking for a complete career change.
"DoorCo is passionate about being a top employer and is always keen to shine the spotlight on the team's achievements. We as a team feel we are understood, respected and that our opinions and ideas are heard. We understand where we can develop, that we have clear career paths, and we are supported along the way. This is why people are able to grow within the company, and there is a clear committed to opening this up further with more training and development opportunities and a rapidly growing apprenticeship programme."
Jayne concluded: "We invest in apprentices recognises DoorCo as a good employer, raising our profile to help us stand out from other apprentice employers and ultimately attract better talent. After all, good apprentices want to work for good employers, and this is key to the future of our business and the industry at large."