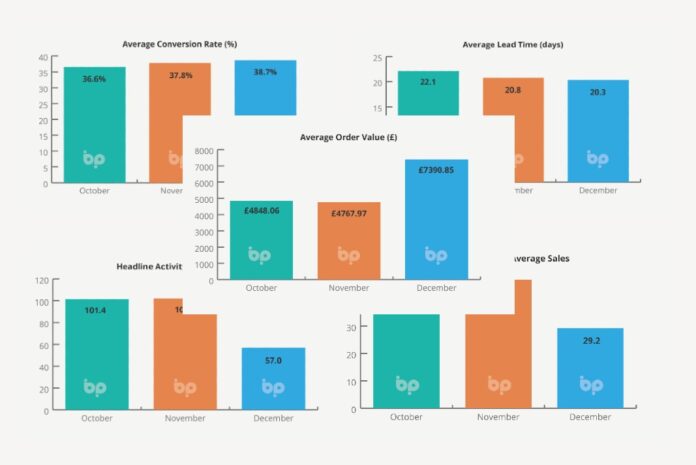 By Neil Cooper-Smith, senior analyst, Business Pilot.
The Business Pilot Barometer offers monthly analysis of the key trends defining window and door retail. It draws on real industry data collated by Business Pilot, the cloud-based business management tool developed by installers, for installers.
Figures for window and door sales last month show a 38% fall in sales. That's a substantial but not entirely unexpected drop: a lot of retailers shut up shop early for Christmas, while December is historically also slower. That also goes for January.
Leads in December were also down 44% – from 102 to 57 – which means that the start of the year will be quieter for many. Despite its size, the figure is unremarkable, given that we lost much of the month to the holiday season.
Average order values by comparison were up from £4,770 to £7,391, an increase of 55%. Although we're having to join the dots, we'd argue that this can, in part, be attributed to the pre-September stamp duty holiday deadline rush in housing completions. Although conjecture, it would make sense that a couple of months in, those who moved in September are starting on home improvements, and completing refurbishments. At the same time, discretionary spend on single (albeit bigger) ticket items, for example bi-folds, are likely to have been impacted by the holidays and lower seasonal appeal, increasing the average order value overall.
What's ahead in 2022?
At the start of 2022, Omicron continues to deliver a dose of uncertainty. While there were signs in December that supply chains were starting to stabilise, the prospect of Covid-related disruption continues to hang over the industry.
This aside, a number of factors that drive increased consumer confidence, and therefore the willingness to spend, continue to point in a positive direction. Average house prices rose again last month, hitting a record average level of £254,822, according to the latest data from Nationwide Building Society. This represents an increase of 10.4% in the 12 months to December 2021 – an increase of £24,000 over the past year – giving homeowners more equity in their properties.
The challenge is inflation, which the Bank of England predicts will peak at around 6% this April, from the 5.1% already seen in November. Analysts warn this is likely to be compounded if, as expected, Ofgem lifts its price cap on household gas and electricity bills in April, something which could see domestic energy prices increase by as much as 50%.
In summary, confidence in the housing market means that demand is going to be there in retail. But affordability is going to be far more of an issue than it has been in the last 12 months.
Has Covid-19 made the window and door industry more profitable?
The answer is, we're probably never going to know. But we think it's worth considering that the window and door industry was on target for significant growth before the pandemic hit, at around 5% year-on-year, through to 2023.
The growth that has been seen in the last 18 months has been exponential, but it is by definition going to be less sustainable. What we can see is that year-on-year sales December 2021 were down 23% on those for 2020. Go back a year further, to the pre-Covid era, and in December 2019 they're 60% lower.
So, could the industry have done better if Covid hadn't hit? It's safe to say that the volume wouldn't have been there without it, or, perhaps more accurately, the furlough scheme. But there would have been more control, and, going into year end, we know that there will be retailers who won't have been as profitable as they expected to be, because of the increased complexity and cost of doing business during a pandemic.
Designed and developed by installers, for installers, Business Pilot delivers real-time information on true profitability against every job, as well as helping you to manage cashflow and win new business. For more information visit businesspilot.co.uk.