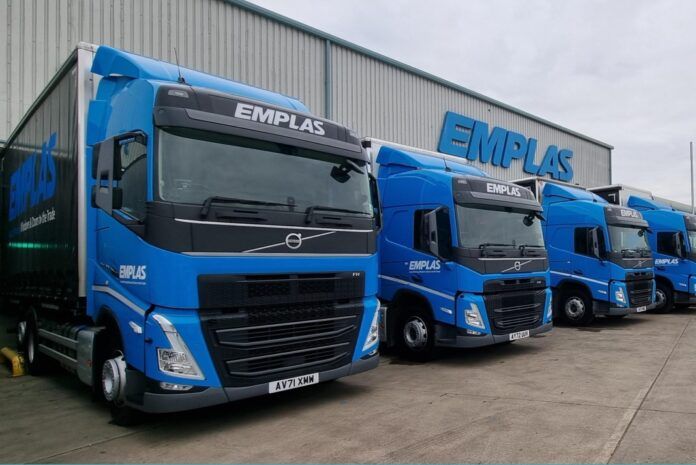 The Emplas team has added new Volvo FM Rigid HGVs to its fleet, aiming to lower emissions while increasing capacity. The new 18-tonne trucks combine the latest Euro 6 emissions standards with modern aerodynamics, helping to improve fuel efficiency by 50% compared to older models.
With two vehicles delivered in August and a further three in November, the transition of the Emplas fleet exclusively to low emission Volvo HGVs is now complete. "We're working to lower our impact on the environment and our fleet strategy is very important towards meeting those objectives," said Jody Vincent, Emplas' sales director.
"We now have six Volvo FM trucks within our fleet, significantly lowering our emissions. We will move exclusively to them as our fleet is renewed.
"This delivers a number of additional advantages. We're literally based next door to Volvo's flagship service centre, which allows for faster routine maintenance and repair, while class leading telematics mean that vehicle performance is continually tracked, helping us to guarantee the performance of our fleet – and on time deliveries."
Emplas currently operates a fleet of 14-vehicles. It achieved Fleet Operator Recognition Scheme (FORS) accreditation, having successfully completed a rigorous assessment of its fleet management processes in August. The voluntary scheme helps businesses improve operator safety, fuel efficiency and to lower fleet emissions.
Though the Emplas team has achieved a 15% fuel reduction in the last year, it is working to build in a further 10-20% reduction in emissions by introducing new route planning software. "We're driving change in the make composition of our fleet but also how we manage it, to lower our impact on the environment and to deliver a better service to our customers," added Jody.
For more information about Emplas, visit the fabricator's website, email info@emplas.co.uk or call 01933 674 880.