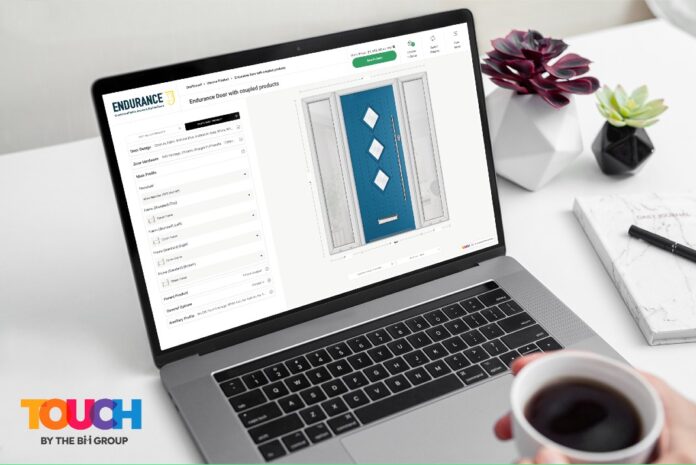 Endurance Doors has launched the UK's first Touch Portal live online ordering system, in partnership with the Business Micros Group. Touch Portal is marketed as 'the first end-to-end online ordering system in the window and door market – seamlessly managing an order all the way from retail enquiry to manufacture and delivery'. It is said to transform the way that fabricators price and process orders, improving the design, quoting and ordering experience for trade customers.
The Touch Portal door designer and data platform is now live on Endurance Doors' website. Customers within Endurance's Touch Dealer network can log in to generate instant quotes and place orders.
Besides convenience, the biggest benefit of the portal for installers is that Touch Portal is fully integrated with the Business Micros manufacturing and business management software that Endurance already uses, the business' representatives have said. That means that quotes are based on real-time product data and pricing. Customers can add their mark up using the requote customer feature and send professional personalised quotes to homeowners from within the system that are accurate and up-to-date, according to the business' representative.
The integration of Touch with Endurance Doors' Business Micros Evolution and EvoNet software means that orders placed via Touch Portal go direct to manufacturing, saving on order processing and eliminating the need for double entry. The composite door specialist can also use Touch to send news and updates to customers and provide downloadable technical and marketing support materials.
Scott Foster, head of group sales and marketing for Endurance Doors, said: "It's a real thrill for us to be the first fabricator to launch the much-anticipated Touch Portal system. It is game-changing software which will transform the way we engage with our installer partners as well as make a big impact on our operation and efficiency. Once again, we're leading the way in the composite door market and can't wait to start delivering all the benefits that Touch promises to our partners."
The continually updated data platform that underpins Touch Portal was developed and hosted by Business Micros. The designer and customer interface was created by the Consultancy and Glazing Vault teams, both of which are companies that are part of the Business Micros Group.
Graeme Bailey, managing director of the Business Micros Group, said: "We've been working with our launch partner fabricators for many months, making sure that Touch Portal does everything they need it to do. Endurance is the first over the line, partly because its portal is dedicated only to doors but also because it is a powerful brand that has believed in the Touch project from the start and has always been a strong and loyal supporter of Business Micros.
"We'll be announcing a whole raft of other big-name launch partners fabricating both windows and doors over the coming weeks and months. 2022 already looks like it will be the year when Touch becomes the number-one choice for trade fabricators in the UK."
Touch Portal is fully compatible with the Touch Vendor lead generation, remote selling and quoting tool for installers launched by Business Micros Group last year. Users of Touch Vendor can link their system direct to their chosen fabricator's Touch Portal, or continue to use it as a standalone option.