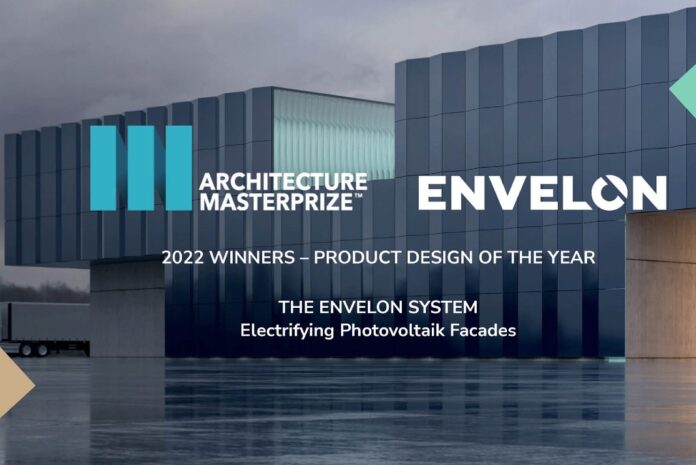 A glass-coated façade product, Envelon, won a Product Design Award of the Year last Thursday (24 November). The product's ultra-thin internal glass coating unlocks colour potential, its creators say, producing solar façade panels that shimmer with vibrancy throughout the day and bring buildings to life. The award was part of the Architecture MasterPrize 2022, held at the Guggenheim Museum in Bilbao, Spain.
Envelon's technology aims to redefine building-integrated photovoltaics to help the move towards carbon neutrality with alternative renewable energies. Unlike traditional solar systems on the roof, Envelon focuses on architectural building façades, combining the highest standards in aesthetics and performance.
Solar-active façades for contemporary buildings
Envelon's solar façade system brings architectural design and solar energy together in a durable and application-flexible glass façade, transforming conventional buildings into sustainable power plants. The high-performance and cost-effective BIPV systems are available in a wide selection of colours that have been successfully applied on large-scale buildings.
Reducing technical complexity, Envelon is built on a simple, modular process. "Thanks to the Envelon system, the façade material – in addition to its conventional technical, protective and aesthetic functions – adds value to the building by converting sunlight to electricity," said Peter Kuczia, the architect who desgined the product.
Turnkey solutions for energy-sufficient buildings
Envelon's developers aim to drive a vertical energy revolution worldwide. Central to this effort is a flexible, 360-degree approach that includes not only production in Hamlar, Germany, but also customized project design for the respective locations and turnkey installations. As a result, building owners, architects and planners can count on holistic project management, professional support and reliable cooperation, Envelon's creators have said.
To meet the existing standards of architects and builders, Envelon offers frameless façade panels from high-quality glass elements that simplify the installation and maintenance of façades. Supplying individually designed façade kits or turnkey solutions provides high-quality and reliable handling from a single source, its creators have said. What's more, Envelon's colour technology gives architects and building owners creative freedom to express their unique aesthetic using a broad palette. Read more about the product at envelon.net.