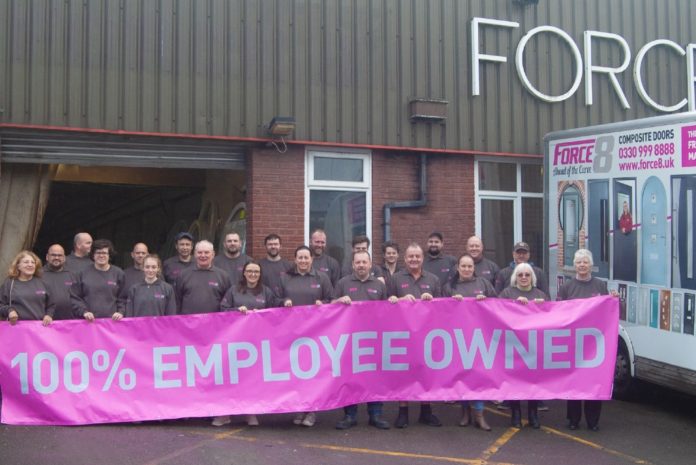 Industry supplier Force 8 is in the process of changing its company structure, to enable it to become an employee-owned company. "As far as we are aware, we are the first within our industry to take this step," said one of Force 8's board directors. The law firm JMW Solicitors, and Clarke Nicklin accountants, have advised Force 8 on the deal.
"Some of our staff, from shop floor to office, have been with us for over 20 years," explained Dennis Sumner, managing director. "I wanted to make sure that the future of the company was secure, and most of all, that the staff felt secure. Buyouts and takeovers, although very generous, did not offer the security I was looking for. I wanted to make sure that the workforce was looked after, as they are the main asset for the company."
An employee-owned company is one where over 51% of the shares are held in a trust for the benefit of all employees. The trust, which oversees the management of the company, includes shop floor representatives and one, non-working independent person. The trustee board must meet certain legal requirements and ensure that the company is always acting in the best interest of all the employees. Alongside this, a forum is made up from staff and directors, with the aim of improving the company and discussing new ideas.
In Force 8's case, 100% of shares will be within the trust. Each qualifying member of staff (who has worked for Force 8 for over 12 months) will also receive a tax-free bonus each year based on the company's profits. Part of the company restructure has meant that Carol Swindles has been promoted to production manager and Lisa Mottershead is now on the board of directors.
"As far as we are aware, we are the first within our industry to take this step," said Lisa. "This has energised and inspired the work force and created a lot of new opportunities, as well as increased productivity and customer care. Who would not want to deal with a company where every employee is totally committed to providing the best quality products and services? Dennis will be staying with the company during the transition, and into the future, to help guide the company to future success."