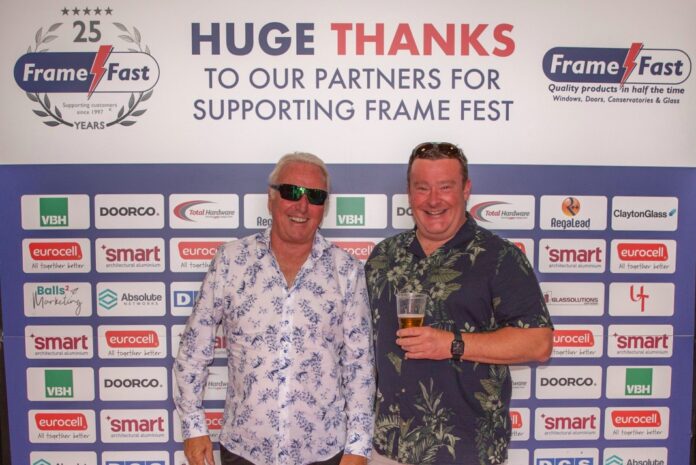 Frame Fast UK as celebrated its 25th year with a party for its team, customers, suppliers and friends. The award-winning, Derby-based window, door, roof and glass fabricator named its party "Frame Fest".
"Around this time last year, I was thinking what we could do to celebrate our 25th anniversary," explained Nigel Leivers, Frame Fast's managing director. "That's when my daughter Megan came into my office and said we should have a big party. What's more, she had a name ready, and Frame Fest was born!"
More than 300 guests gathered at Bustler Market in Derby to enjoy the festivities. The event included a DJ, arcade games, stilt walkers, food from Greedy Pig caterers and live music from The Four Muppeteers.
Nigel continued: "Megan wasn't the only one behind the success of Frame Fest: customer care manager Kathy Brighouse and sales manager Greg Brighouse also played a big part in the organisation. It was definitely a night to remember. There was a real festival atmosphere to the whole evening, and it was a great way to thank everyone who has contributed to the success that Frame Fast has enjoyed over the last 25 years, including our dedicated team, suppliers and, of course, our customers.
"Special thanks goes to the companies who supported us at the event, including industry suppliers Eurocell, Smart Systems, VBH, DoorCo, Total Hardware, DGS, Glass Solutions, Clayton Glass, UltraTough and RegaLead, alongside Derby-based service suppliers Absolute Networks and Balls2 Marketing. The board we had created with all their logos went down really well on the night, and made the perfect background for welcome photos.
"For any business to be successful for 25 years is a major achievement, but for one to continue going from strength to strength is testament to our understanding of the market, and customer service. It was very special to be able to welcome so many guests to Frame Fest and celebrate not just the past 25 years, but toasting a great future as well."