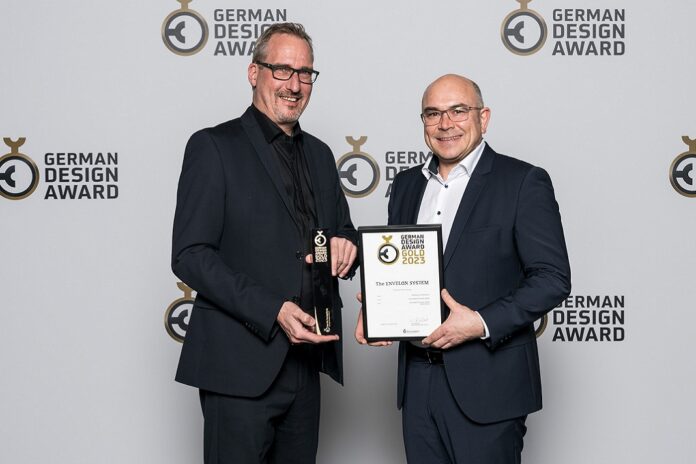 Judges of the German Design Awards 2023 have awarded Grenzebach Envelon 'Gold' for the solar façades firm's Envelon system, in the 'Excellent Product Design – Building and Elements' category. The awards took place on 3 February 2023 in Frankfurt.
The Envelon energy façade system is made up of two key components: the glass panels with embedded photovoltaic technology and the underlying framework, which includes the mounting system and electrical wiring. The modules are manufactured on an automated production line in Hamlar, Bavaria.
According to the firm's representatives, individual façades from the Envelon system can be assembled from a range of modules, with different dimensions and colours based on requirements. Last November, the Envelon system was awarded the Architecture MasterPrize 2022 in two categories: 'Product Design of the Year' and 'Product Best Of Best'. A month later, the product also won Gold as part of the International Design Awards.
"The fact that we have received so many awards in such a short period demonstrates that our solar-active façades provide suitable answers to pressing issues of our times," said Hans-Peter Merklein, CEO of Grenzebach Envelon. "Our solutions unleash innovations in sustainable construction with aesthetically stunning design. This fills me with great positivity for the future.
"Good design requires an in-depth examination of the challenges of our time, because social and political changes require constant questioning and the ability to set new priorities," added Lutz Dietzold, CEO of the German Design Council. "The German Design Awards draws attention to those companies, projects and products that keep pace with the transformations of our time, driving sustainable solutions and providing innovative responses to an ever-changing world."