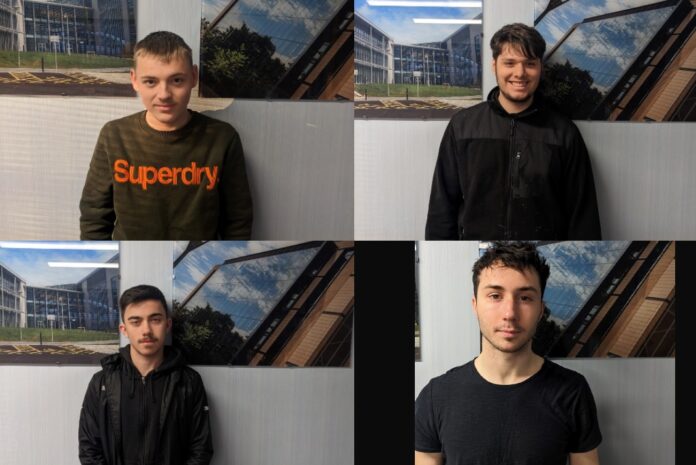 Cardiff-based fabricator Dudley's Aluminium has welcomed four new apprentices to its team: Daniele Casiero-Malpas, Morgan Goodrich, Joshua Parton and Thomas Wyatt. "Welcoming Daniele, Morgan, Joshua and Thomas through our bespoke apprenticeship scheme has been a fantastic way to start the year," said Colin Shorney, managing director of Dudley's Aluminium. "They have made a great start with colleagues in our workshop, and we are looking forward to seeing them progress."
Morgan, Joshua and Thomas are the newest recruits to the firm's apprenticeship scheme. Daniele joined the team last October. All four are apprentice fabricators, helping the production team to prepare and assemble aluminium frames for doors, windows and curtain walling in the workshop.
Daniele said: "This apprenticeship is a brilliant way for me to get stuck into practical work, gain experience and learn valuable skills that will set me up for the future." Morgan added: "I wanted to earn and learn at the same time, so an apprenticeship seemed like the natural choice for me after leaving school. I'm enjoying learning from the team and familiarising myself with the equipment and materials we use."
Joshua said: "I'm happy to be part of the Dudley's Aluminium team and to be treated as a fellow worker. The apprenticeship is a starting point for a good career in this industry and I have already learnt so much about specific tools used in aluminium fabrication."
"I decided to pursue an apprenticeship with Dudley's Aluminium as it was a chance to join an architectural aluminium business and learn from more experienced colleagues," explained Thomas. "I'm really enjoying my time here."
The quartet are the latest apprentices to work at Dudley's Aluminium. Izaak Lenney and Lewis Richards successfully completed their 15-month apprenticeships with the Dudley's estimating team. Now, the fabricator is now supporting Izaak and Lewis with their ongoing professional development to help them progress further in the company. Izaak is studying for a diploma in management as a trainee site supervisor while Lewis is studying for a foundation in quantity surveying as a trainee estimator and surveyor.
Colin, Dudley's managing director, added: "We are proud to invest in the training and development of all of our employees. It is our pleasure to support our former apprentices to take the next step on their chosen paths within the company."