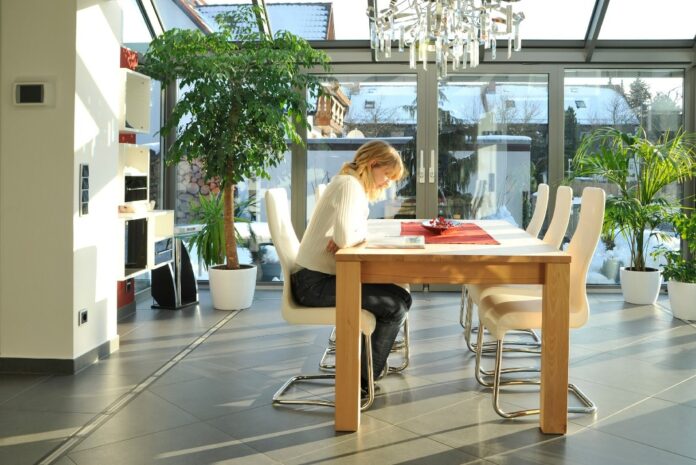 Glass processor, Glassolutions, is to invest £1.5m into helping its customers respond to growing consumer demand for oversized pieces of glass. The trend for refurbishing and extending residential properties is set to continue, the business' representatives argue, justifying a major investment programme at the company's Dudley factory.
The investment is to include the installation of a larger furnace, with 20% increased capacity and the ability to toughen even larger pieces of glass. An automated arriser is to be bought, to ensure high-quality and consistent finishing, and a power upgrade is to help futureproof the site, and enable further expansion plans.
David Evans, Glassolutions' Dudley factory manager, said: "The pandemic has resulted in more people working from home, or hybrid working, which has prompted a huge increase in residential renovations to create more comfortable and spacious living and working environments. This has included the trend for more glazed extensions incorporating large expanses of glass, such as sliding, patio and bi-fold doors, roof lanterns and fully glazed walls and roofs. This latest investment at Dudley gives us the capability to support our customers in delivering the right type of oversized glass for these larger windows, doors and glazed areas, which require maximum safety and security as well as the correct levels of thermal, solar and acoustic performance.
"Our product range, which includes COOL-LITE SKN 176, Planitherm One and Planitherm Total+, already provides the perfect energy-efficient, solar and acoustic control solutions for customers to create comfortable, liveable and visually stunning glazed extensions in this premium residential market. Our offering has been enhanced by this latest investment, which means we can now process and toughen glass up to 2.85m x 4.2m in size. We are committed to supporting our customers, who are maximising the growth opportunity presented by this firmly established trend for larger glazed areas in the residential sector."
It will be 'business as usual' during the 13-week upgrade work, thanks to detailed planning and additional manufacturing resources available from sister sites in Coventry, Motherwell and Canterbury. David added: "With increased capacity, greater automation, improved energy efficiency, plant reliability and optimised optical quality of products, customers will see real benefits. We believe the investment will strengthen our position as a market leader in the glass processing and toughening markets, whilst helping our customers to grow and develop in the premium residential market.
"We've planned the upgrade project in the shortest possible schedule which means it will be complete by the end of April. Importantly, we'll operate a full production line at all times, and we have plenty of backup capacity at our nearby Coventry factory, as well as our glass processing sites at Motherwell and Canterbury. This should mean little or no difference to normal lead times."
Glassolutions' network of branches and processing sites provides customers with a wide range of glass products and services, with everything from toughening and laminating, right through to domestic and commercial sealed units and the supply of specialist products which offer enhanced acoustic, aesthetic and solar control. For more information, visit glassolutions.co.uk.